Sandy and Bob Hoover are members of World Vision's National Leadership Council. This is their story.
"So what do you want to do now that Bob has retired?"
Bob and Sandy Hoover were meeting with their financial advisor, National Leadership Council member David Hillard, when he surprised Sandy with this question.
Without hesitating, Sandy answered, "I want to go to Africa."
The answer took Bob by surprise, since the couple had never discussed a trip to Africa.
But those magic words prompted David to promise, "I have just the trip for you."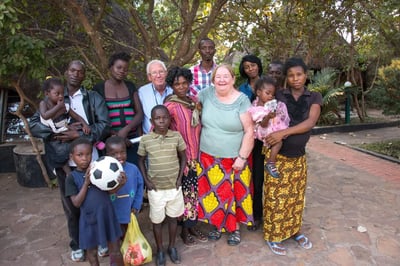 The Hoovers with some of their sponsored children in Zambia.
David and Carla Hillard invited the Hoovers to join them on a World Vision "vision trip" to Zambia. The Hoovers had spent most of their adult lives engaged with organizations that benefited children and those who were poor, but they knew very little about the work of World Vision. Sensing God's leading, though, the Hoovers agreed.
In Zambia they witnessed community savings groups, water and sanitation projects, World Vision bank programs, medical clinics, a safe house for girls—all lifting children and families out of poverty. Deeply touched by the work, Bob and Sandy clearly heard God's call to help the extremely poor in Zambia.
Since that trip Bob and Sandy have devoted themselves to the work of economic empowerment, using their own gifts in leadership and communication to passionately tell the stories of what God is doing among small-holder farmers and their families who are being released from extreme poverty.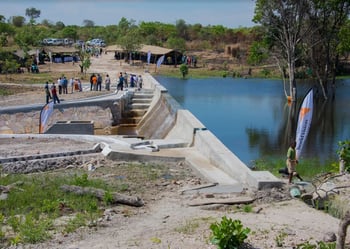 The irrigation dam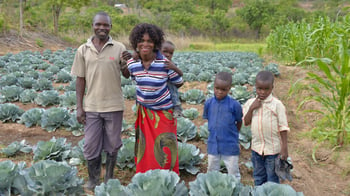 Alfred, Eunice and their three children in their cabbage farm.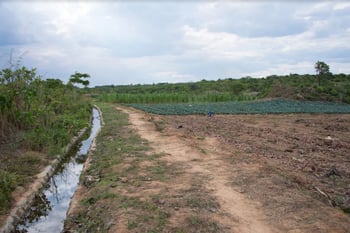 The canal flowing past Alfred and Eunice's cabbage farm.
One of their favorite stories is of an irrigation dam near Kasama that was constructed to provide irrigation water for 325 families. So far, 85 small holder farmers have been approved to use the system's water for their gardens. The gardens have proved so successful that the original canals have been extended to serve over 400 families, lifting over 4,000 people out of extreme poverty forever.
The couple raves, "We have seen the crops, family pride, and the generational changes occurring as a result of the availability of irrigation water. It gives us great joy to see the amazing changes in the lives of families living in extreme poverty." These include new block homes being built, metal roofs replacing old thatched ones, access to electricity, more food to eat year-round, greater access to education for boys and girls, better medical care, and even marital accord.
One couple whose lives have been transformed are Alfred and Eunice. Prior to the training program, Eunice had been told she spent too much time in bed. But after she'd announced that they were leaving poverty at the training, and never returning, Eunice has been working in the family's garden from 5am to 6pm every day. Thanks to the water from the new canal, their cabbage crop has increased in quality and size tremendously, increasing the family's revenue. The couple has also experienced transforming joy in their marriage as a result of a program called Celebrating Families. In fact, the couple now visits their neighbors to share their new learning and life style changes with them.
Before their vision trip Chris Pope, a representative from World Vision, had warned the Hoovers what they were in for: "Don't go on this trip unless you are ready to have your life changed forever."
Graciously, he was right.
Want to explore exciting possibilities for your own gifts and resources, before or during retirement? Get involved by sending an email to the NLC helpdesk.