Lyné Brown is a member of World Vision's National Leadership Council.
When my husband Pat heard World Vision was doing an emergency relief effort in the US to help those hurt financially by COVID-19, he got an idea. What if Giving In Motion, the nonprofit he cofounded, could inspire a Bay Area radio station to do a campaign to raise funds benefitting folks right in our own backyard? Giving in Motion was specifically set up to provide funds to World Vision for water in Africa but had previously partnered with local radio station KNBR to raise support for California fire victims. After many conference calls and planning sessions, Pat persuaded the popular sports radio station to choose Giving In Motion to be their local charity partner to raise money for COVID-19 hunger relief.
Giving in Motion matched $50,000 raised to reach the goal of $100,000 in order to extend World Vision's food distribution to California's East Bay. Radio station personalities announced the campaign on the hour for a week in June and Pat was able to do an interview with them on the last day. KNBR even had a guest appearance from all-star basketball player Gary Payton (aka "The Glove"), whose brother pastors a church distributing food in Oakland, to help promote the drive. Due to the generous response of donors, an additional 7,150 meals and 1,430 household essential bags are being provided.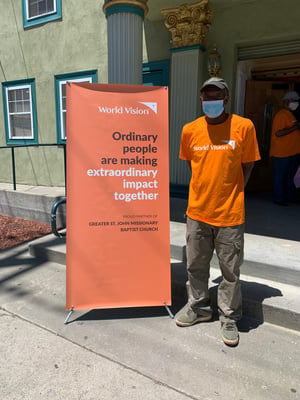 Greater St. John's Missionary Baptist church in Oakland has been serving 100 families a week with World Vision kits since April. Their effort has now been extended an additional 13 weeks. San Ramon Presbyterian Church has just opened a smaller distribution point serving 20-25 families every other week through mid-October. Both churches have added their own personal touches to the kit distribution. Pastor Payton was able to influence the Oakland school district to partner with their church and supply fresh produce for their weekly distribution. KNBR got another of their partners to donate Giant's logo masks in Oakland and the San Ramon church is offering free homemade masks to every family. Both churches have a special station with members offering to pray with any family who wants it…and almost every family receiving supplies also wants prayer.
Pat and I and our son Cody have been blessed to participate in both the Oakland and San Ramon events. We are amazed to see how God is working through World Vision to help bring relief to so many families around the world, including our own community, during this time of need. It has also been gratifying to see local churches truly serving their neighborhoods. World Vision is helping the church to be the Church.