Sandy and Jeff Grubb are members of World Vision's National Leadership Council. This is their story.
Over twenty years ago, as a married father of three living in Portland, Jeff Grubb was volunteering locally, but had an itch to get involved on a larger scale. When he contacted a friend at World Vision, he confessed, "Since I'm just a business person, I really don't have skills to help the poor. But I'd like to become involved internationally."
That phone call began a journey for the Grubb family that continues today.
When this friend invited him to a meeting on microenterprise development, Jeff was intrigued by the concept of lending to the poor to help them work their way out of poverty. The Grubbs began donating financially, and a year later Jeff took a Vision Trip to Peru, with his eldest son, where he was able to see World Vision's programs in action.
In 1998, Jeff and Sandy also jumped on the opportunity to take all of their three sons on a Vision Trip. In Kenya and Tanzania, Sandy's eyes were opened to the reality of extreme poverty and suffering. Her heart ached when she witnessed the desperation of one Maasai mother. Willing to do anything to secure a future for her children, this mother offered her daughter as a wife for one of the Grubbs' sons. There, Sandy was gripped by God's call to join the global battle for the lives of children and families in poverty. And she knew that World Vision was the perfect partner.
As Sandy has continued to engage with children around the globe, she's reflected, "Adversity is so often the seed of our calling." She explains, "I'm struck with how often a child who has been exploited dreams of being a police officer, a child whose parents died wants to be a doctor or nurse, or a child who is denied an education dreams of going to school and becoming a teacher." And while she's quick to admit that she's not experienced the horrors so many children around the globe have suffered, Sandy does recognize adversity as that unlikely seed in her own calling.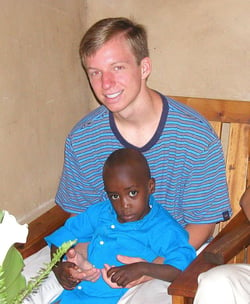 Matthew Grub with little Jean many years ago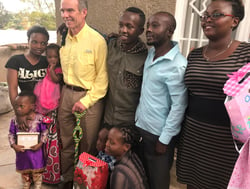 Jean today (in the brown shirt)
Growing up with a father with a drinking problem ignited Sandy's passion to help vulnerable children. She's taught children in public schools, taught them in church, impacted kids through Women of Vision for the last eighteen years, and most recently served as a member of World Vision's U.S. board. Jeff has also clarified his own mission. After reading a book called Halftime, by Bob Buford, he decided his greatest passion was to address spiritual and economic poverty. World Vision has given both Sandy and Jeff opportunities to fulfill their respective callings—one born from adversity, and the other from opportunity.
Both Sandy and Jeff have had the privilege to witness the fruit of their efforts.
Years ago, Jeff met a four-year-old Rwandan boy, Jean, whose family called him "the technician" because he loved things that were mechanical. Jean, who'd been diagnosed with AIDS, had lost both parents to the disease. His older sister had been raising Jean and their siblings since she was thirteen. Jeff's heart broke at the thought that this creative energetic boy would only have a few more years on the earth. Miraculously, the symptoms of AIDS never expressed themselves in Jean's body. The Grubbs have stayed involved with this family, and today, fifteen years later, Jean is studying civil engineering at a Rwandan university and has already started a business with his older brother. Jeff notes, "He loves God, and his hard work and college education will help address the poverty that could have overcome this family."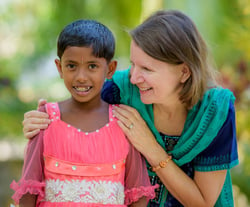 Sandy meeting children in Bangladesh
Sandy has also witnessed children being released from poverty. In recent years, she's met children forced into child labor in Bangladesh, where over three million children are trapped: peeling shrimp, working in bakeries, laboring in machine shops, and toiling in private households. Every child with whom she spoke had endured violence. Sandy rejoiced when she learned recently that World Vision has already freed fifty-four of these children from their labor, helping them to attend school and strengthening the families' incomes. The number of children freed is growing weekly.
The journey that began with an apology for not having skills to help the poor has led Jeff and Sandy Grubb to do exactly that, as they've so generously offered their strengths and vulnerabilities, passions and gifts.
Has the seed of your own calling been planted through adversity or advantage? Get involved by sending an email to the NLC Helpdesk.