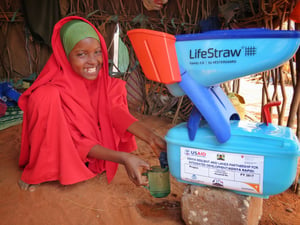 In the vast Semiarid lands of North Eastern Kenya lies Wajir town, in Wajir County, home to Kenyan Somali communities. For years the children and the communities in this region have suffered from waterborne diseases including diarrhea, typhoid and cholera which is said to be endemic in the town.
Najma (10), a grade four student in Wajir town remembers what it was like. "There were times we would get sick in the stomach from drinking dirty water," she said.
It was surprising to learn that every household in Najma's town has their own shallow well which is the primary source of water. There is no town water supply pipeline. "The water table is high and so everyone can dig their own wells and get water, not too deep below," explained Madhaba, a World Vision Water Staff.
Justus, a public health official working in partnership with World Vision shared, "This blessing is a problem… making Wajir town a place of contrasts; there is easy access to water but high risk of Cholera due to contamination."
Najma's father, Osman Gedobanin is a Community Health Volunteer. The shallow well behind their house and the bucket latrine are not far away. Because the soil is sandy, people in Wajir town use bucket latrines (a raised platform with a bucket under). The bucket is emptied every other week or month. If it rains, the water washes the excess waste into the ground and to the wells, causing contamination.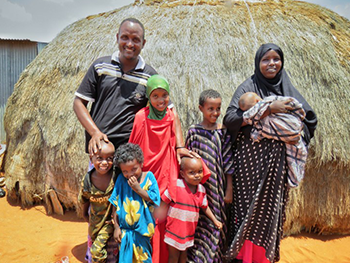 Osman and his family
The endless cycle seemed hopeless. But the proverbial "grasping at straws" speaks hope in Wajir town, in a literal sense, thanks to the LifeStraw household water purifying kit distributed by Kenya Resilient Arid-lands Partnership for Integrated Development (RAPID) project run by World Vision. The LifeStraw is a portable household drinking water filtration system that handles 5-10 liters of water at a time.
The LifeStraw is at work in Osman's home as his children get water from it and drink confidently. Najma knows the value of the LifeStraw. "It helps clean the dirt in water and prevent diarrhea and cholera," she said shyly. For her and the younger siblings, there is also a reduced risk of falling into a shallow well trying to collect water for drinking if there's no adult around, since the LifeStraw stores up to 10 liters.
When Najma's mother was pregnant with the last child, she became ill with diarrhea. And when her children got sick with diarrhea, it was difficult to keep up with the washing of soiled clothes. But now the LifeStraw has dramatically reduced diarrhea cases and saved her such nasty work.
For the people he visits on his rounds, Osman has seen a dramatic decrease in illness since the arrival of the LifeStraw. Typhoid cases have dropped from 23 per month to 0 and diarrhea has dropped from 78 to just 2 cases. As Osman teaches his neighbors about clean water, he is upbeat about the LifeStraw and its impact in the community.