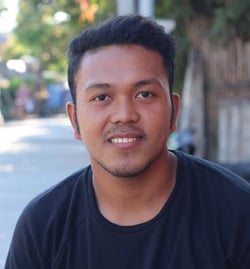 Jimmy Recodia (pictured right) knew he was leading a double life.
On Sundays, he was the obedient son of a well-respected village pastor in the Philippines and was attending college to become a teacher.
But during the week, he let his addiction to Internet gaming rule him. Invited by a friend to try out a multiplayer battle simulation game, computer gaming rapidly became his life's focus.
Spending all his time and money in computer shops, he was failing his classes. He argued constantly with his aunt, with whom he was living while in college. His parents' admonishments went unheeded.
Eventually the guilt at wasting his life and money began to consume him. He vowed to change, and his faith enabled him to take the necessary steps to wean himself off computer games. As God helped him overcome his addiction, he focused once again on his studies and graduated from college with a degree in education, specializing in mathematics.
Jimmy shares how God helped him overcome his addiction to Internet gaming during a Dare to Discover workshop
In March 2017, Jimmy was trained as a facilitator of Dare to Discover. He now leads workshops for youth, sharing his faith and his experiences with addiction to help them understand how God can help them handle the challenges they face.
"I see that most children are also addicted to computer games just like I was. I know the feeling. ... I don't scold them," he said. "I also pray for them."
Dare to Discover includes an exercise called "Release and Surrender" in which participants identify one thing in their lives that makes them feel burdened and trapped, helping them learn how to surrender it to God. Jimmy's testimony is a powerful example of the power of God to overcome addiction.
"God is greater than everything else, even our addiction," he said. "We just have to call and rely on Him. He created us. He can mend us."