Erik and Mary Lou Fyrwald are members of World Vision's National Leadership Council. This is their story.
When Erik and Mary Lou Fyrwald were raising their three daughters, they felt strongly that they needed to give their girls the opportunity to serve among people who were materially poor. The family served in their home church, and also alongside local ministries, but they also longed to embrace and support an effort making a difference around the world.
In 2015, the couple participated in a Vision Trip to Tanzania to see firsthand the work World Vision was doing there.
Mary Lou reflects, "Our trip brought us such joy when we got to meet the beautiful people there who want to improve their lives with clean water, housing, and education for their children. Their strong faith and thankfulness had taught me to be grateful in every situation—even in the very difficult times, because those are the times we know we need God the most."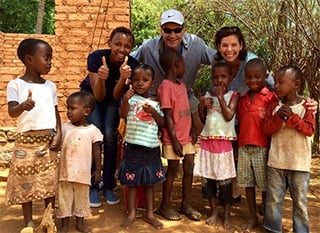 The Fyrwalds with some of the children they met in Tanzania
On the heels of that experience, Erik, who'd previously led DuPont's agricultural division, remarked to Mary Lou that the trip had made him miss working in agriculture. Two months later, he got a call inviting him to lead Syngenta, a global agricultural company that serves over 20 million poor small farmers: a holy opportunity where Erik's personal and professional passions met.
Since 2015, Mary Lou and Erik have both been using their unique gifts to make a difference in the world God loves.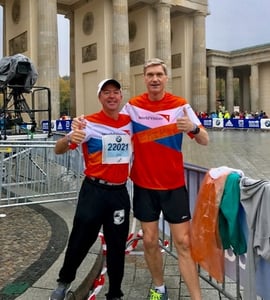 After the Team World Vision marathon in Berlin
Mary Lou recently met with her state Senator to advocate for children in need. And when they welcome people into their home, to share about the good work they've seen, Mary Lou, exercises her gifts of hospitality and encouragement.
She also uses that gift of encouragement as she cheers on Erik when he runs marathons with Team World Vision, most recently in Berlin.
And today, because Erik has leveraged his position as CEO at Syngenta to inspire deeper collaboration between the business and World Vision, Syngenta is working alongside farmers in Africa like those Erik and Mary Lou met on their trip to Tanzania. Also, as a result of God leading Erik to Syngenta, other collaborations have developed in various countries around the world in powerful ways. After a recent work trip, among small holder farmers being trained for success,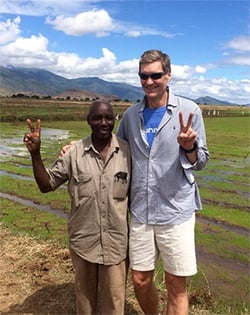 With a samll holder farmer
Erik gushed, "The joy on their faces from being able to take care of themselves, their families, and their communities was wonderful, just like what I experienced in Tanzania with World Vision!"
Reflecting on the opportunities he and his wife have been given to participate in the work God is doing, Erik asks, "How can you not care for and love the poor after Jesus opens your eyes to this?"
Serving and equipping folks on the world's margins isn't on the margins of the Fyrwald's lives. It's the heart of who they are.
If God has opened your eyes to the world He loves, and you want to engage further, contact the National Leadership Council helpdesk.