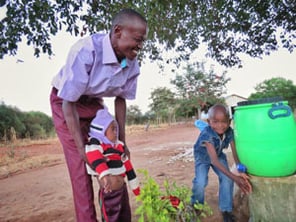 Pastor Julius watches with a smile as his children wash their hands at the church hand washing kit
"Can I imagine a link between pastoral work and hygiene and sanitation? Hmm..., I can't see the connection…," the words battled in my mind even as Lawrence Nzai, the World Vision staff on hygiene and sanitation in Lower Yatta Area Development Program, drove me to meet Pastor Julius Muthami, of the Redeemed Gospel Church in Kanyangi. His wife and children were outside their home, with 2 other women working on their hair in the evening sunlight. We could see a latrine near the church building to the extreme end of the plot and their house on the opposite end. A handwashing kit was strategically placed not far from the ventilated improved pit latrine, a testimony to improved hygiene practice.
Pastor Julius had stepped out and shortly arrived riding his rather old-looking motorbike. Soon we were seated outside listening to him. As an influencer and ambassador of the communities wellbeing, Julius and other pastors were trained on hygiene and sanitation. Many in the community were not aware of the dangers of poor hygiene and sanitation practices. Many did not believe latrines were necessary or even important since there are many bushes in the area where one can easily find cover and finish their 'business'. Others were saddled with a negative cultural world view that made it embarrassing to share latrines with family members.
I was beginning to see why the World Vision program targeted pastors as people who are trusted by their church members and community, to be one of the avenues of change. "We wanted to integrate and mainstream hygiene and sanitation messages through the faith leaders as agents of change through their congregations," explained Lawrence. Pastor Julius did just that. After the training, he gathered his youth members and trained them on hygiene and sanitation practices, the need for handwashing at critical times such as before meals or after using the latrine or changing a baby. The youth in turn, swung into action to build a handwashing kit for the church latrine and ensured there was soap. They then took the messages to their families and community, encouraging their parents to build latrines. "After the training, our youth implement-ed the learnings. Now we have clean latrines and a handwashing kit in our church and this is passing a message to the members to do likewise at their homes," explained Julius. It now made sense that indeed faith leaders can influence the community for good. They are respected in this context and people listen to them.
Pastor Julius's children underpin the power of children for change. "Children watch keenly that people do what they say," said Julius. "I have trained my children on handwashing and they are keen. One time, they reminded me that I had forgotten to wash my hands from the latrine," shared Julius with a smile.