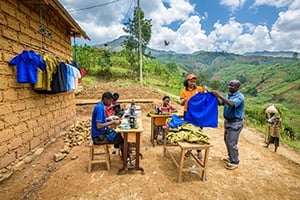 Global leaders have committed to eradicate extreme poverty by 2030. And for the first time in modern history, the world is coming to the collective realization that it is possible to completely end extreme poverty in our lifetimes. World Vision is leading the charge on a variety of fronts, including equipping, educating and empowering smallholder farmers break the cycle of generational poverty that has held their families back. Until now.
The number of people living in extreme poverty has dropped from 35 percent of the world's population to less than 10 percent over the past 25 years. This is a huge improvement, but still, 1 of every 10 people around the world today live in extreme poverty — defined as living on $1.90 a day or less.
Of the 736 million people needlessly living in extreme poverty, two-thirds are smallholder farmers and their families. Extreme poverty robs children and families of education, healthcare, and sufficient food — even for farmers.
Supporting the 2030 Sustainable Development Goals, World Vision is dedicated to keeping the momentum going to help end poverty in all its forms, everywhere, by 2030. World Vision's work includes helping:
4 million smallholder farmers and their families build improved and resilient livelihoods

10 million people benefit from lasting water, sanitation, and hygiene solutions

4 million mothers and their beloved children avoid preventable deaths
Through an innovative program called THRIVE — Transforming Household Resilience in Vulnerable Environments — World Vision is changing the mindset of farmers and entrepreneurs, opening doors to financial services, and equipping men and women to lift themselves out of poverty.
Our approach is working. Read the story of Robert and Esperance and their family in Rwanda to find out how.
Crossing the river of poverty
In rural Rwanda, Robert used to struggle to bring in $1.75 a day to provide for his family. He had a cow and a sewing machine that he used to do the occasional work for others, but it wasn't enough.
"Life was not easy," Robert says. "My home was unsafe; the roof was leaking. We never used to have enough meals. It was hard to buy uniforms and school supplies for my children."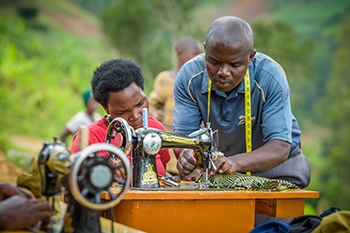 Robert Niyigena (blue-gray shirt) and his staff make school uniforms to sell at his business which has thrived because of THRIVE.
Through THRIVE, Robert attended a training to empower entrepreneurs. "They trained us how to cross the river of poverty. To cross, we had to see our opportunities," says Robert.
He and his wife, Esperance, discussed what capital they had. "World Vision told us our capital is our knowledge and our resources. The only capital I had was the cow," says Robert.
"The training awakened a spirit of braveness in me," he says, to "do something that inspires me — tailoring." Though a huge risk, they sold the cow to purchase a second sewing machine.
He then hired a tailor to work for him, rented space in the market to sell his clothes, and joined a World Vision savings group. Robert has doubled his income in eight months, now bringing home $3.50 a day. He has also demolished their run-down hut and built a watertight house.
Esperance says the change in their family has been profound. "We have enough food today. Our children are well nourished," she says. "We have experienced great change. We have achieved so much we couldn't imagine."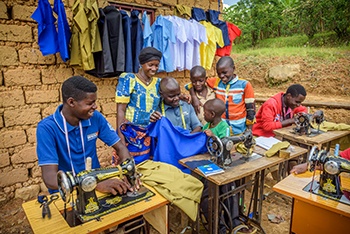 Robert and his staff working together
Even Robert and Esperance's marriage has improved. "Now we are self-sustaining. We no longer worry about the future. The tension between us has reduced. Now I can take care of her more. Our love has restored."
Through the training, Robert's faith in God grew. "I learned that everything comes from God," says Robert. "When you trust in him, you can do anything." His life is truly transformed. "I'm now at another level of faith and believing. A lot has changed in my heart."
Robert's favorite Bible story is the Good Samaritan. He says it reminds him of World Vision — "how World Vision is helping us come back to life."
What can I do to help end extreme poverty?