David Grizzle is a member of World Vision's National Leadership Council. This is his story.
When he was growing up, David Grizzle hated being poor. A graduate of Harvard College and Harvard Law School, David launched his career with Continental Airlines, eventually serving as senior vice president of customer experience. He also served the U.S. Department of State in Kabul, Afghanistan, and eventually landed his career in the role of chief operating officer of the Federal Aviation Administration's Air Traffic Organization. David admits that as he achieved financial security, like many who make their way out of poverty, his first thought wasn't about how to help others climb out of the same hole he had.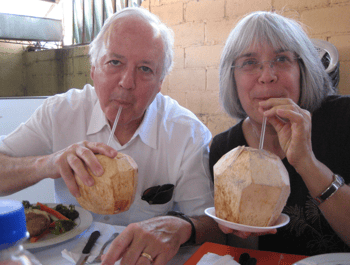 David and Anne on a Vision Trip
But as David continued to improve financially, he came to recognize God's preferential concern for the poor. He observes, "I suspect it is because He knows how painful it is to be poor, and especially to be extremely poor." Admitting that he isn't naturally wired as a compassionate person, David says that he acts and gives out of obedience. That obedience springs from gratitude for the prosperity he's enjoyed. David believes that God made some people strong and rich not just for their own benefit, but to help those who are weak and poor. It's why he invests in the work of World Vision. Today, David and his wife, Anne, are key leaders in World Vision's National Leadership Council.
One of the gifts David feels he was put on earth to use is a capacity to envision the partnership potential of people or institutions who may be natural adversaries. David is able to nudge parties toward a cooperative relationship by finding overlooked mutual interests. For the sake of the kingdom, David has used this natural gifting to stimulate people's interest and involvement in World Vision, especially those who might have a natural skepticism about the work of charitable institutions like World Vision.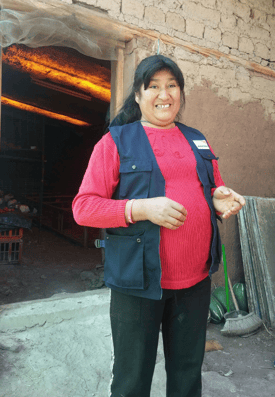 Esther, the guinea pig farmer
David experiences joy from seeing the work of World Vision on the ground. When David and Anne visited Cauca, Peru, he met a mother named Esther. For years, Esther had been raising guinea pigs—an important source of protein in the mountains of Peru. When World Vision gave her son, a sponsored child, a guinea pig with superior genetics, Esther used this asset to build and develop her herd of guinea pigs.
But, as in David's life, Esther's journey didn't end when she achieved financial security for her own family. When David and Anne met Esther, her herd had grown to over five hundred animals, allowing her to help others launch their own small businesses. David notes that Esther's life was also transformed spiritually when she became a faithful follower of Jesus after a pastor prayed for her guinea pigs as they were being ravaged by a raging disease epidemic. Their recovery fueled Esther's faith in One who cares for her.
Not everyone understands what it feels like to be extremely poor. David Grizzle does. And so does the God he serves.
Want to see your blessings bless those born into poverty? Get involved by sending an email to the NLC Helpdesk.