Scott and Tracy Brunjes are members of World Vision's National Leadership Council. This is their story.
When Scott and Tracy Brunjes visited Myanmar, in Southeast Asia, they noticed that a local community gripped by poverty had a very modern school. Curious, they discovered the school had been funded by a French corporation.
Recognizing opportunity, Scott mused to his wife, "Wouldn't it be great if we could do something with my company, and our foundation, to adopt a village like this?"
Scott and Tracy embraced a period of due diligence to find an organization with boots on the ground that was already doing great work. The day after they reached out to World Vision, through whom they'd sponsored children, a staff person was sitting across from Scott and Tracy in their living room, exploring the possibility of sponsoring a village in Honduras.
When they traveled to Honduras recently, with a group of others, God gave the couple even more clarity.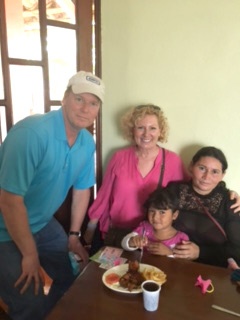 The Brunjes visit a family in Pueblo Viejo
After visiting a thriving community, with running water in their homes, Scott and Tracy visited Pueblo Viejo, a village lacking access to clean water. Holding up signs of welcome, villagers greeted the Brunjes' and other couples from their team with a "red carpet" of green pine needles and festive singing and clapping. When their team gathered with the community at a local school, the Brunjes' heard stories about children drowning while trying to gather water from a river that pigs were polluting. They even heard from an eighty-year old woman who'd fallen so many times on her journey for water that she'd been forced to crawl home.
When the heavens opened and rain began to pour, the team quickly thanked the villagers and tried driving away before the dirt roads turned to sludge. When their vehicles slid sideways, tires spinning, villagers used machetes to cut down trees and branches that could be used to give the cars traction in the mud. Twenty men—and even the bruised eighty-year old woman!—worked to help the Brunjes' and their friends. But as nightfall approached, the visitors grabbed their passports and whatever they could carry to begin the three-mile hike off the mountain.
By the time they reached safety, Scott and Tracy were convinced they needed to help Pueblo Viejo. The villagers' compassion and determination to help them moved the Brunjes' to commit to finding a way for the village to access fresh water, asking the other couples to join them.
God is now using the couple's gifts to engage even more partners. As a radio and podcast host, Tracy is sharing stories of those in need and offering her audience opportunities to help. As a successful businessman, Scott was already committed to growing a company in which employees could experience purpose and meaning in their work lives by helping others. So inviting them to bless Pueblo Viejo is a natural win. Scott and Tracy reflect, "By partnering together we can make a much bigger impact. We look forward to the changes that are coming to the village that has so quickly become near and dear to our hearts."
With eyes to see what God can do, the Brunjes' are witnessing God's goodness in action.
Want to know how you can make a difference in the world God loves? Contact the National Leadership Council helpdesk to learn more.