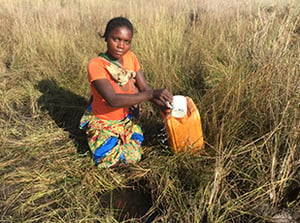 "I lost my pregnancy because my village had no proper water source," says Kanyanga Muyenga, a 25-year-old woman from Western Zambia. Kanyanga is a young, single mother of two adorable children, a 10-year-old girl named Nyambe and a 17-month-old boy named Masheke. She lives in a small remote village called Chimopu, located on sandy terrain north of World Vision's Luampa Area Program (AP). Kanyanga has lived in her village her entire life. To make ends meet, she grows cash crops like cassava and corn.
Until recently, Kanyanga's village had no proper water source. Her entire community relied on shallow, unprotected scoop holes that accumulated water from a stream on the outskirts of her village. They shared these water sources with pigs, cows, goats and sometimes dogs. "We used to struggle to get water in this village," she says. We had to wake up very early in the morning to go and queue up for water. If you went to the holes late, you would find the water finished and you had wait for hours," she adds.
In the dry season, the holes would completely dry up and the whole community had to walk long distances further down the stream for water. In the rainy season, rain water would wash dirt, including fecal matter, into the stream. "Even though the water in the holes looked clean, it had worms, tadpoles and a bad stench but we had no choice. We drank it and used it for bathing, washing and household chores. It was all we had," she says.
Fetching water from the scoop holes was not easy for the women of Kanyanga's village, especially when they were pregnant. They had to bend down low and scoop the water, a difficult position for an expectant mother. Once their containers were full, the process of walking on narrow paths and carrying the large containers on their heads was quite an ordeal.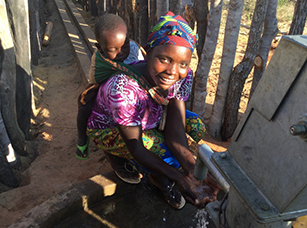 Kanyanga and Masheke collect clean water at the new borehole.
One afternoon in 2011, Kanyanga returned home from hours of work in her field and decided to leave her only child then, three years old Nyambe at home and rush for water at the nearest scooping hole about 2 kilometers from her home. She was four months pregnant at the time. Unfortunately things did not go as planned.
"I left my child at home because I couldn't manage to bend down and carry water with a child on my back. I fetched water in my 20-ltr jerrycan, put it on my head and quickly started walking back home. As I was walking, I hit into a stump and fell," Kanyanga explains. "I started bleeding heavily and could not walk. I called for help and was rushed to the clinic where I was told that I lost my baby. I almost died," she says sadly. "I was not the only one who went through such an incident. Several other women had accidents like mine - some even worse," Kanyanga says.
Fortunately, World Vision sank a modern borehole in Kanyanga's village and life has been forever changed for Chimopu. "I never thought I would ever drink clean water from a good and safe water source near my home," Kanyanga says. "Life has become better for us. We now have a safe water source. We no longer have to queue up or wait for hours for water. Accidents have now reduced and lives are being saved as a result of this safe and proper water source," Kanyanga says. "Thank you World Vision for making our lives better," she adds.