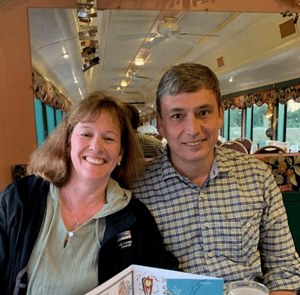 Cyndi and Mark Bluhm are members of World Vision's National Leadership Council. This is their story.
Mark Bluhm gave his wife, Cyndi, one of the best gifts she's ever received. And you might not guess what it was.
Knowing that since childhood his bride has had a heart for those in need, Mark Bluhm gave his wife the "gift" of sponsoring a child in Swaziland, named Ntsetselelo, through World Vision. A few years later, a friend challenged Cyndi to run a half-marathon with Team World Vision to bring clean water to Ntsetselelo's community. And although she doesn't consider herself a runner, Cyndi rose to the challenge! When Mark "nudged" many of his executive friends to support the run, the couple raised over $6,000 for water in Mhlosheni, Swaziland.
As a woman committed to the pursuit of justice where it is absent, Cyndi's appetite had been whet for more. After taking a Vision Trip with World Vision to meet Ntsetselelo, and to see the transformation happening in his community, Cyndi read Rich Stearns' book The Hole in Our Gospel. And in the same way the book touched and motivated so many, it was like fuel in Cyndi's tank that pushed her even further down the road God had prepared for her. When she contacted World Vision and was invited to attend the annual Every Last One conference, Cyndi continued her journey by attending her first National Leadership Council event!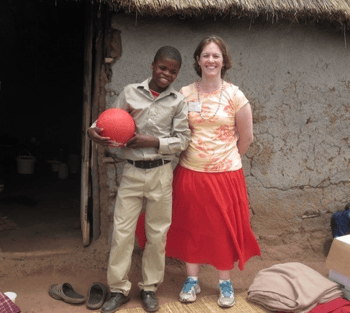 Cyndi meets her sponsored child Ntsetselelo, at his home in Swaziland.
Cyndi raves, "It was everything I was looking for in an active group of like-minded people using all of our resources to serve the poor and disadvantaged." Ten days later, Cyndi and Mark officially joined the National Leadership Council. Since that day, each of them have found ways to serve the ones God loves using the gifts He's given them. Mark enjoys hosting events that introduce people to the work of World Vision. Together, they hosted a Wine to Water event to expose others to work in the area of WASH (Water, Sanitation, Hygiene). Cyndi also loves to invest her time and energy learning about the work in the field and advocating for poverty related bills with members of Congress, and shares what she's learned at their events! After visiting places like Cambodia, northern Uganda, India, and Bangladesh, Cyndi is most passionate about the work World Vision does in child protection and emergency relief. Together, the Bluhms are unstoppable.
While the benefit to children and families being lifted out of material poverty is evident, the opportunity to partner with World Relief goes two ways. Cyndi explains, "I am my best version of myself when I am traveling with World Vision or just talking to someone in the field or back "at home" about the work they do." She adds, "One gift I've been given—that allows me to be able to devote much time and energy to volunteer work—is that Mark has wholeheartedly supported me doing work that satisfied my heart rather than working to help pay the bills. I am truly blessed by this!"
As you might imagine, countless others are blessed by this couple's commitment to what God is doing around the globe through World Vision.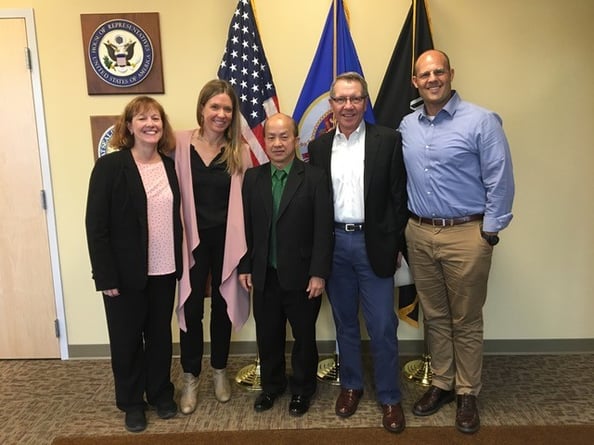 Advocating for support for the Global Food Security Reauthorization Act with Representative Betty McCollum's office.
Want to know how you can make a difference in the world God loves? Contact the National Leadership Council helpdesk to learn more.