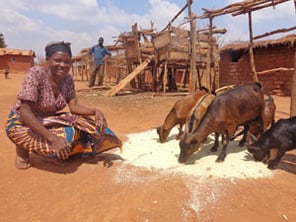 Lucy with several of her goats
Many families in central Malawi depend on tobacco as their main cash crop. The same was true for Lucy Ka-jani and her family. Lucy was quick to point out the years she spent on tobacco farming that did not produce much change in her life. Lucy is a mother of 6 but was widowed 3 years ago. "We used to invest much in tobacco, but the dividends were not as satisfactory. We used to grow tobacco out of routine since we had no tangible alternative. This practice was deeply entrenched in us," explains Lucy. Lucy shared that there were times after taking out loans for investing into tobacco farming, when they could not realize profits.
Often lenders would demand household items in exchange for payment of the loan. "For us life was not as pleasing in those years. It was evident that the results from tobacco growing was not proportional to the investments we made. We lived in regret, yet we did not see the way out," says Lucy.
World Vision brought a ray of hope when they arrived in Lucy's community. Lucy and her neighbors started participating in several development projects. Lucy embraced the training. She started participating in the Economic Empowerment project. She decided to stop tobacco farming and ventured into other crops like groundnuts and soya beans. The leguminous crops did not require any fertilizer application and she started realizing meaningful incomes. Last year, with only two crops, she raised over 300,000.00 Kwacha (US $ 400) which she used to pay school fees and other supplies for three of her children. She had enough left over for other home uses. Lucy also decided to form a village savings and loans group with friends where she invests part of her money for greater returns. Through village savings and loans, she was able to buy a goat and a pig. To her amazement, the goats have multiplied significantly in two years. She is now the proud owner of 15 goats and 10 pigs. This is a big achievement for the widowed Lucy.
Lucy is very proud as a mother. Single handedly, she is able to feed her family, enjoying three meals a day. She is comfortably paying school fees for two of her children in the senior level of high school education. Lucy is also happily supporting her youngest son with school supplies for his primary school education. With the dividends from village savings and loans, she completed her brick-walled house with iron sheets, plastered the walls and floored it with cement. "As a household, we are now living happy lives as opposed to the past. As a widow, I feel proud of my life and that my children are getting better and better every day," says Lucy with a smile. "Thanks to World Vision for coming to my rescue," says Lucy.