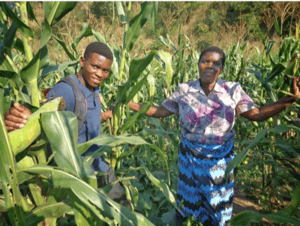 Grace and her son inspect the corn
Lack of economic independence is one of the plights of many African women, especially in rural areas. In many African countries, men are the bread winners. This was true of Grace Njikho of Kamphalo village in Chikwina-Mpamba Area Program in Malawi. Married over 31 years and a mother of 5 children, she depended on her husband for everything. She never engaged in any form of business to gain income or supplement what her husband earned. For her, being married, meant the husband had to shoulder total responsibility for everything. "Before the THRIVE Project, I could hardly think of engaging in any form of micro enterprise for additional income for our household. I thought my husband was there to provide everything for the home," said Grace.
Grace spent years begging her husband for even the smallest items. She would beg for household items such as salt, matches and other smaller items. "With no other source of income, women are reduced to beggars in the home and community. I used to beg for everything from my husband and neighbors. This really contributed to my loss of respect among fellow women," lamented Grace.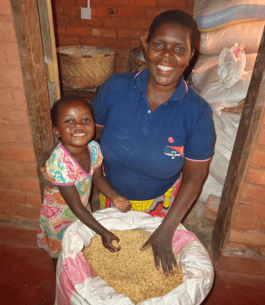 Grace and granddaughter Faith with a bag of rice
Grace started changing with the coming in of the Transforming Household Resilience in Vulnerable Environments (THRIVE) project, which was aimed at economic empowerment of women and other members in the community. Through the project interventions, she formed the Msaliranji (meaning: why lag behind) Savings Group with other women in her village. Seeing the gains from the first cycle, Grace decided to do more and to diversify her economic ventures. She started growing rice and other crops such as cassava. Consumed with the zeal to diversify, she has planted bananas. This last growing season she planted 88 plants of new bananas which are very promising. Last year she earned about $700 USD which was never the case before. She used part of the money for household improvements and reinvested the rest.
Grace is proud of her home
Interacting with Grace, it is clear that she, together with her family is going through tremendous transformation. Through her small-scale businesses, she is able to provide support for her family. "I no longer have to depend on the income from my husband. I am able to raise some good income from business ventures and supplement my husband's efforts on improving our household. We are now able to have three good meals in a day which was not the case before," says Grace. As a family, they are now able to comfortably support their children. Grace and her family have managed to build a brick house with iron sheets for the roof, cemented floors and wiring for electricity. They have bought a 30x15m plot at Mpamba trading center, where they plan to build a house for rent. Grace is determined to be a woman of economic influence in her area. "I thank World Vision and the THRIVE Project for opening my eyes, that I could reach this far," says Grace with a glittering smile.