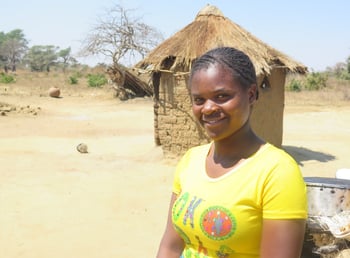 Loveness at home
At only 17, Loveness has had her share of suffering. Having lost her father when she was only five, her mother has struggled to make ends meet, especially after her health began to decline. She can hardly provide food for Loveness and her two siblings, let alone pay school fees. Instead of celebrating Loveness' graduation from primary to secondary school, she despaired because she did not know how she would pay the higher tuition. Fortunately, Loveness was accepted at City of Joy, a facility run by World Vision's partner for the Zambia Education-Every Last One (ZEELO) project. Loveness is one of 22 girls who received a scholarship from World Vision through ZEELO. The scholarship provides funding for tuition, food, shelter and other necessities.
Loveness believes if she had not received the scholarship, she would have gotten married at an early age like many of her peers in the village. "I would have been married with a lot of children by now," she remarked with absolute certainty. The scholarship has given her hope to realize her dream of becoming a nurse and helping the sick, and being a bread winner for the family.
Together with Sister Patience, the matron from City of Joy, we drove from Mazabuka to Magoye Area Program to visit the village where Loveness lives. We found her mother husking and shelling corn under the shade of a huge tree. She gave us a warm welcome and as we sat down, we instinctively grabbed dry corn and helped her peel kernels off the cobs using our thumbs. She was preparing the kernels for Musohya, a meal of boiled corn eaten with a local version of yogurt. As per cultural courtesy, we engaged in preamble before broaching the subject of our visit. We talked about the unbearable heat, the imminent planting season, and the outbreak of denkete (Newcastle disease), which recently wiped out the family's chickens.
When our conversation finally steered towards the subject of our visit, the scholarship Loveness received, her mother could not find words to express her profound gratitude. "'Thank you' does not even begin to describe my gratitude for what you have done for my daughter and for me," she said, with a great sense of indebtedness. We listened silently as she narrated the hardships she endured just to make ends meet, such as mining building sand and ferrying it on her head. Her health does not permit her to perform these tasks anymore. She now relies solely on her extended family and other people.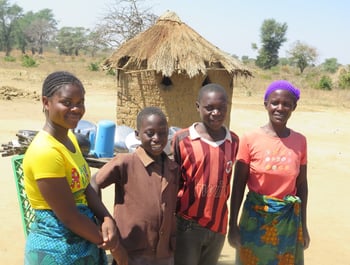 Loveness with her brothers and her Mom
As Loveness, her two brothers and her mom smiled for the camera, I thought of the saying, "A picture speaks a thousand words". At first glance, the picture spoke of an aura of happiness given the family's beautiful smiling faces. But, when looking closely, the picture also spoke of words that seem to contradict the impression of happiness. It spoke of the hardship faced by the family. For instance, an almost empty barn on my right revealed that the corn donated by an uncle will soon run out. An incomplete structure on the far left indicates her mom will have to continue living next door as she waits for her brother to finish building her house. The leaky, dilapidated grass-thatched hut in the background, suggests the mother's health isn't good enough to cut fresh grass for the roof this year. But, it is wonderful to see the family smile amid all these challenges. After all, there is a light of hope at the end of the tunnel in the form of Loveness completing school and getting a job. The light might be further in the long distance, but at least it shines brightly with hope and a future.