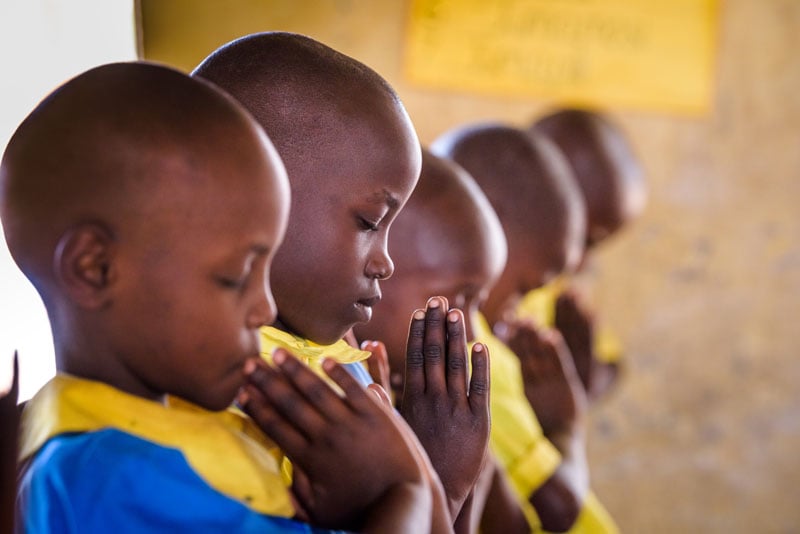 Nearly 3.5 million children and youth participate in World Vision discipleship and values education to strengthen their faith, their relationships, and their sense of self-worth. (©2018 World Vision/photo by Jon Warren)
At Christmas, we celebrated the birth of Jesus — the Light of the World. Through all of our work and throughout the year, we follow Jesus in spreading his light, to "shine before others, that they may see your good deeds and glorify your Father in heaven" (Matthew 5:16, NIV).
Our work to reduce material poverty goes hand-in-hand with our work in Christian discipleship to overcome spiritual poverty. Children cannot truly experience fullness of life unless they have the opportunity to experience and deepen their understanding of God's love.
In the next five years, World Vision has a plan to expand our work to engage at least 2.5 million people in activities that strengthen the Christian faith of children and youth.
There are five main areas in which we help children experience the love of God: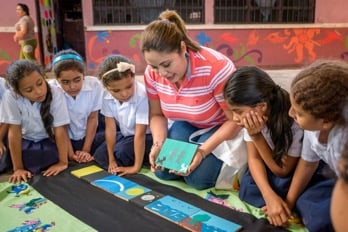 In Honduras, World Vision provided training to teachers like Carla Isaula (red- and white-striped shirt) to interact with students in a different way — choosing kindness and empathy over harsh discipline. The students also learn to make positive choices in their relationships, and the teachers work with the parents to promote healthy interaction in families. (©2017 World Vision/photo by Jon Warren)
1) At home and school: We equip parents and caregivers to provide a safe and caring environment.
A family home should be a nurturing place but it typically is where a child is first exposed to violence. At least 1.7 billion of the 2.2 billion children in the world experience violence every year in their homes, schools, or communities. It is hard to experience God's love if the primary caregivers in your life do not show you love.
That's why we equip parents, caregivers, and teachers to provide a safe and caring environment for children's spiritual growth that reflects Christian values.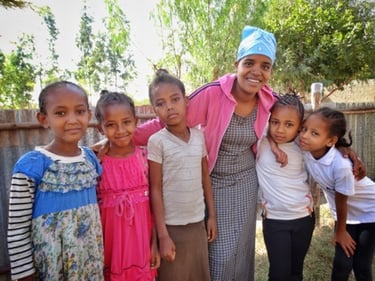 Sunday school at Full Gospel Church in Ethiopia was not a fun place. Children from ages 3 to 14 were crammed into one large room and the program was dull. "Most of the things said, I don't remember," says Fetlework, now 26. "Me and my friends never liked that." Today, World Vision is partnering with Full Gospel Church and has trained 10 Sunday school teachers, including Fetlework, who serves full-time in the children's ministry. Sunday school is now engaging and fun for the children. They play games, listen to Bible stories, study verses, and perform dramas. "I can see the fruit of my lessons, and I get very happy," says Fetlework. "I feel like I have contributed a lot in shaping the next generation." (©2018 World Vision/photo by Mesrach Ayele)
2) At church: We empower and mobilize churches to help children grow in their faith.
Churches are our indispensable partners in God's mission. World Vision has developed a global network of partnerships with more than 15,000 local churches, giving us the ability to reach deeply into communities and nurture children's faith in Christ.
However, in the impoverished communities where World Vision works, most churches lack the knowledge or training to create ministry programs that engage children's curiosity and interest with age-appropriate communications.
World Vision trains tens of thousands of faith leaders every year to equip them to minister to the spiritual and physical needs of children and their communities. We help to strengthen local leadership and equip them with practical programs and tools for ministry, including children's ministry.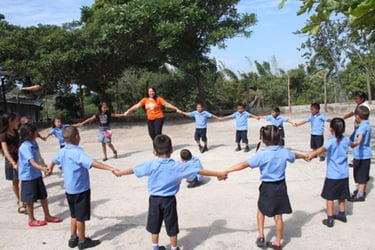 After-school clubs, like this one in El Salvador, keep children off the streets and engaged in positive activities. Bible clubs and faith-based programs help nurture children's faith and commitment to follow Christ. (©2017 World Vision/photo by Katia Maldonado)
3) In after-school programs: We enable children to grow in their awareness, knowledge, and experience of Jesus.
Nearly 3.5 million children and youth participate in World Vision discipleship and values education. After-school programs include vacation Bible schools, Bible clubs, church-based camps, and school-based biblical values formation. These programs keep children engaged in positive activities, equip them to make healthy choices, help improve their relationships, and nurture their faith in God.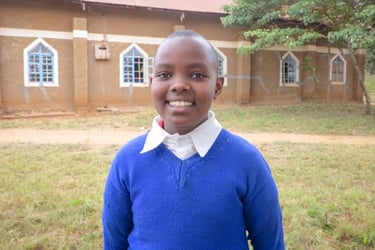 Through a World Vision training in Kenya, 12-year-old Grace became a leader at her school's Bible club. She now commands respect and admiration among her fellow students. "Thank you, World Vision," she says, "for providing the training that empowered me to become a Bible leader at such an age, an opportunity I could have missed." (©2018 World Vision/photo by Samuel Gamusa)
4) In ministry: We equip youth to explore God's purpose for their lives and live out their faith by mentoring children and peers.
World Vision provides leadership training for youth to grow and give back to their community and to other children. As children grow in their faith convictions, they become ambassadors for Christ in their communities.
This training equips children and adolescents to help lead Bible clubs and after-school activities. Younger children benefit from the positive role models of older children, and older children grow in their confidence and their faith.
These youth develop important life skills that shape their decisions as they become adults. In places like Central America, training helps youth find their identity in Christ, rather than in gangs. And, as they teach others, they reinforce the firm foundation they've built in Christ.
5) In God's Word: We provide Bibles to churches and families.
When struggling to make ends meet, buying a Bible is out of the question, so children and adults rely on teachings from local church leaders to guide their faith. They don't have an opportunity to study God's Word for themselves or deepen their understanding of how to live Christ-like lives. Many ministry leaders don't even have their own Bible to use for study or preaching.
With your help, we make Bibles available to help churches strengthen their ministry programs. Our seven-year target is to provide 400,000 Bibles to churches and schools to be used in Sunday school classes, after-school Bible clubs, and personal devotion as well as to help improve children's reading skills.