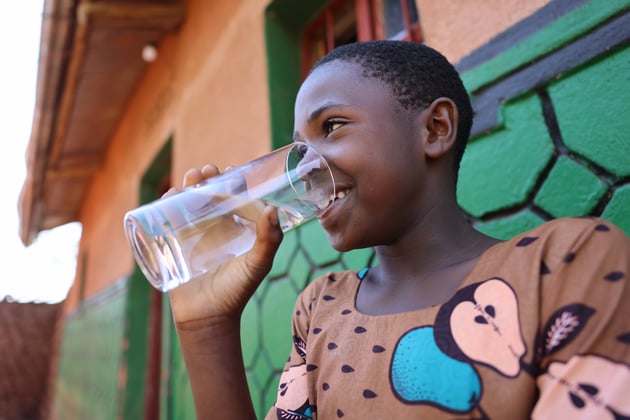 Alice, 9, drinks from a clean water point installed in Rwanda.
Every year since 1993, World Water Day is observed globally on March 22, set aside by the U.N. to raise awareness about the lack of clean water access.
Today, 1 of every 10 people on the planet don't have access to clean water. That's 771 million people with no choice but to drink, cook, and wash with contaminated water — a reality most of us reading these words can't fathom. The statistics are sobering, but at World Vision, we use them to fuel our focus to help end the global water crisis.
Keeping our word on clean water
We believe every child deserves clean water, so we're committed to the work to make it possible. Today, World Vision is reaching one new person every 10 seconds with clean water — more than any other nongovernmental organization. In 2015, we announced a bold goal with our partners: to reach everyone, everywhere we work with clean water by 2030. That figure? About 50 million people worldwide … and we're over halfway there.
Since that promise, we've reached over 25 million people in the toughest-to-reach places on earth — including Rwanda, one place we focused our mission to finish what we started. And thanks to the generosity of donors and partners, the promise was kept. As of this year, we're on track to reach 1 million people in Rwanda with access to clean water. It's hard work, but good work; every person reached is a story changed.
Alice, a 9-year-old girl, used to walk long distances to get water near the village of Musura in Rwanda. "I often got so tired and sometimes missed school or went to school very late," she remembers. But World Vision, with the help of supporters, provided clean water points in the village closer to homes. "Now, I fetch water and go to school on time. I also use clean water to wash utensils at home, mop the house, and now we drink clean water as well."
The ripple effects are dramatic
Clean water doesn't just improve health, although that's the most critical and immediate impact. It also improves quality of life across the board.
Education improves when children aren't kept from the classroom, spending hours walking back and forth to the nearest water source.
Opportunities expand when girls — the primary water collectors in many communities — have their time restored and redirected to other pursuits.
Poverty decreases as diseases and illness subside, shifting mindsets away from mere survival and toward economic opportunities.
World Water Day calls our attention back to what's real and what's wrong, so we can help make it right. The global water crisis is big, but if we work together, we can solve it in our lifetime. Would you prayerfully consider partnering with World Vision and donating to the Global Water Fund so children and families can access clean water? We've been able to leverage $4 in funds from additional sources for every $1 you give, meaning each $1 investment will have an impact of $5.
Every gift is helping change — and save — valuable lives.