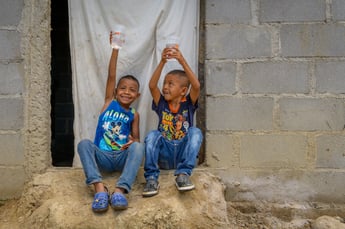 David, 7, and his brother Noe, 5, hold up glasses of clean water in thankfulness.
As we observe World Water Day on March 22, we celebrate the children and families that are equipped with clean water access thanks to partners like you. But we also acknowledge the ongoing global water crisis that continues to leave one out of every 10 people on the planet without access to clean water.
Launched by the United Nations in 1993, World Water Day is an annual observance to raise awareness of those who lack access to clean water. According to the most recent reports, 771 million people lack access to basic drinking water, and 122 million people still use surface water as their primary source.
The global water crisis is a problem we hope to see solved in our lifetime. When you partner with World Vision, you help make this ambitious goal possible.
Dirty water kills
In 2017, Johanna Hernandez would walk nearly four miles every day to the Hato River in Honduras with her children — David, 7, and Noe, 5 — in tow. Though several miles from their home, the Hato River was the closest source for the Hernandez family to gather water for cooking, cleaning, and drinking.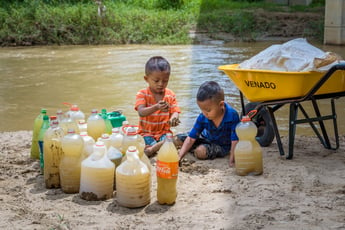 Using plastic jugs and bottles, David and younger brother, Noe, gather dirty water from the Hato River in Honduras
While the long distance was a hardship, safety in gathering the water was also a concern for the Hernandez family. Wading into the cold, visibly dirty river was a deadly business. The water was rife with microscopic dangers — bacteria, hepatitis A, and poisons from animal waste and farming pesticides.
Worldwide, more than 800 children under 5 die every day from diarrhea caused by such contaminated drinking water, poor sanitation, and unsafe hygiene practices.
Besides the microscopic dangers, collecting the water was itself precarious. One day, while Johanna was busy cleaning on the riverbank, her oldest son, David, went into the river and was nearly swept away by a strong current.
"I was washing my clothes here," recalls Johanna. "He almost drowned."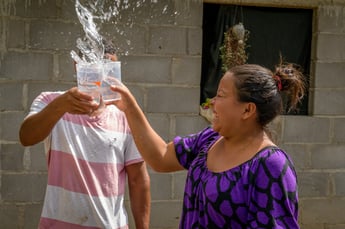 Johanna joyfully clinks glasses with her husband as clean water splashes everywhere.
Flash forward to today, and the Hernandez family has changed their relationship with water. With the support of our donor partners, World Vision has helped equip the Hernandez family and their community with access to clean water.
"I was skeptical," admits Johanna. "At the beginning I didn't believe it. I kept bottles because of my uncertainty. Now my family believes when World Vision says they will do it, they do it. It used to take two hours to collect water. Now I have it right at my house and I'm very happy about it."
Dirty water displaces
"It was difficult for me to leave Honduras," Jose Luis Martinez, a farmer, laments. "I made the decision to have a future, for a better life for me and for my family."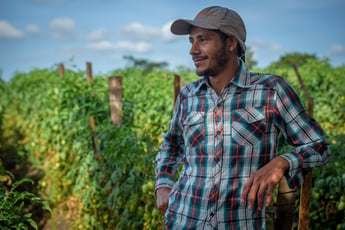 Farmer Jose Luis Martinez surveys his crops in Jamastran Valley, Honduras.
The search for clean water is one of the leading factors of forced migration around the world, including in Central America. In pursuing sustainable sources for drinking water and irrigation, many people face few options other than leaving their homes. Of the nearly 9.6 million people living in Honduras, 1.5 million lack access to clean water sources — 1.2 million are from rural areas. Drought has lowered crop production, and subsistence farmers have struggled to feed their families. Storms such as Hurricanes Eta and Iota have destroyed water systems, and it will take years for communities to regain access to quality water. For farmers like Jose Luis, the lack of access to proper irrigation and clean water results in failed crops, dying farms, and the need to emigrate in order to support their families.
But thanks to World Vision's water work, today Jose Luis is a very successful farmer — in his native country.
"Everything started with the farming association and the support of World Vision drilling wells," says Jose Luis. "Now we have an irrigation system which helps us with our crops, but at the same time, we own our own plots, and we are giving jobs to other people in the community."
No one should remain thirsty
As followers of Christ, we believe that God created and loves every person in the world — and all of us deserve access to life's basic needs, including clean water.
The prophet Isaiah wrote about a coming day when God's people "will neither hunger nor thirst, nor will the desert heat or the sun beat down on them. He who has compassion on them will guide them and lead them beside springs of water" (Isaiah 49:10, NIV).
As we celebrate World Water Day, we keep our eyes on the goal of reaching everyone, everywhere we work with clean water by 2030. In Honduras, World Vision plans to finish the job of reaching 650,000 people with clean water by 2027. That's more than half of the country's rural population who, with your help, will have access to clean water through World Vision programs. Please prayerfully consider partnering with World Vision and giving a gift today.
By contributing to the Global Water Fund, you partner with World Vision and those we serve to have more impact. That's because World Vision has been able to obtain an additional $4 for every $1 donated to our Global Water Fund — so every $1 you invest has an impact of $5.