Imagine a world where everyone has access to safe, clean water. That's a world we're getting closer to every day.
This World Water Day, March 22, World Vision is celebrating a significant milestone: Since 2016, with the support of our donors and partners around the world, we've reached more than 20 million people with access to clean water — even amid a global pandemic. We've also raised all of the funds needed from U.S. donors to help everyone, everywhere we work in Rwanda get clean drinking water by 2022.
World Water Day: Celebrating over 20 million people reached with clean water
Today we're nearly halfway to the ambitious goal of equipping everyone, everywhere we work — around 50 million people — with sustainable access to clean water by 2030. Help make an impact by contributing to our Global Water Fund.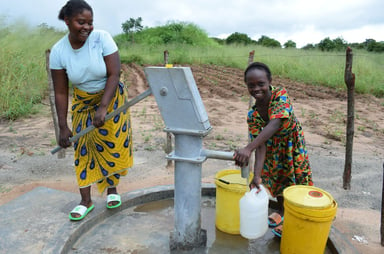 Loveness Phiri collects water from the new water point World Vision helped build in Zambia. (©2021 World Vision/photo by Collins Kaumba)
Every day, more than 800 children under 5 die from diarrhea caused by contaminated water, poor sanitation, and unsafe hygiene practices. One of every 10 people on the planet — 785 million — have no access to clean water, and 3 billion people don't have a place in their homes to wash their hands with soap and clean water (a resource that's critical for fighting diseases like COVID-19). In addition, the global water crisis disproportionately impacts women and girls, who spend an estimated 200 million hours hauling water every day.
Clean water and improved sanitation and hygiene can change everything. With their hours restored, women can bring in income and provide their families with nutritious, healthy foods. Safe from deadly water-related illnesses, kids can stay in school and get an education that enables them to create brighter futures. Entire communities can begin to focus on economic development, overcome poverty, and flourish.
---
World Vision is the leading nongovernmental provider of clean water in the developing world, reaching one new person with clean water every 10 seconds and promoting handwashing to one new person as well.
---
Now, our focus is on continuing the momentum to finish the job in Zambia, where the need is great. In Zambia, about 40% of people still lack access to clean water — that's nearly 7 million people who still suffer from the risk of waterborne illness caused by drinking contaminated water and 3.5 million women and girls who face the daily challenge of hauling water.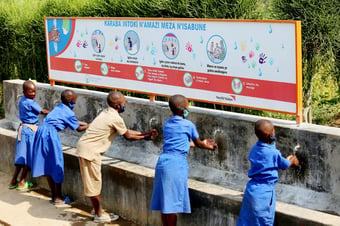 Children at Kibririzi Primary School in the Karongi District of Rwanda practice good hygiene at a newly constructed handwashing station built by World Vision. (©2020 World Vision)
Together, we can help make a difference for millions — empowering every child and family where we work in Zambia with access to clean water. It's a big goal, but one we know can be achieved with your help and God's provision. Based on the success of the last five years, we're on track to continue providing the resources needed to end the global water crisis — not only in Rwanda and Zambia, but in every community where we work around the world.
To celebrate World Water Day, join the effort to reach 50 million people with clean water by 2030. Your contribution to the Global Water Fund enables more children and families around the world to live into their God-given potential. Your $1 investment will have an impact of $5. This is because World Vision has been able to obtain an additional $4 for every $1 donated to our Global Water Fund. When combined with funding from grants, child sponsorship, foundations, and corporations, your gift will go even further.
Together, we can share God's love with families all over the world who are waiting for clean water, helping empower them to experience life as God intends for all of us.
"I was thirsty and you gave me something to drink." —Matthew 25:35 (NIV)