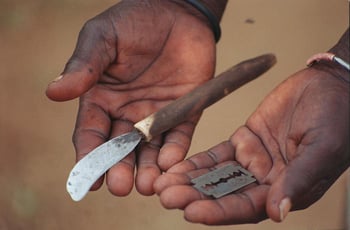 After 20 years, a circumciser in Kenya laid down her tools—a knife and a razor blade. World Vision helps girls, boys, and communities to stand against the dangerous, damaging practice of Female Genital Mutilation or Cutting. (©2000 World Vision/photo by Winnie Ogana)
Each year, more than 3 million girls are at risk of Female Genital Mutilation or Cutting (FGM/C). February 6, the United Nations' International Day of Zero Tolerance for Female Genital Mutilation, is a time to bring this serious issue to light.
Girls' rights are violated and their potential crushed when they are subjected to FGM/C and have their external genitalia cut. Best estimates are that 200 million women and girls alive today have suffered FGM/C. There is no medical reason for this traditional practice, and no benefit for the girl. Girls who have been cut often experience life-long dire effects, such as pain, infections, bleeding, difficult childbirth, and incontinence.
Most often, FGM/C occurs in Africa and is part of a girls' preparation for marriage. Ignoring her right to have a say about her own future and potential to be educated, her parents, future in-laws, and community often force her into marriage. She may become her husband's property with few options for continuing her education or to fulfill dreams.
Sabina, in Kenya, underwent FGM/C when she was 13 and was married off immediately after. Now 15, she has been able to reclaim her life, thanks to World Vision's child protection and education programs. Read about Sabina's determination to save other children, including her siblings, from FGM/C and exploitation.
World Vision's holistic approach changes lives, attitudes
Each year, World Vision holds a children's forum in Kenya to bring children from all over the country to discuss issues that affect them and to propose solutions. They formulate action plans for addressing FGM/C, child labor, and early marriage, among their top concerns.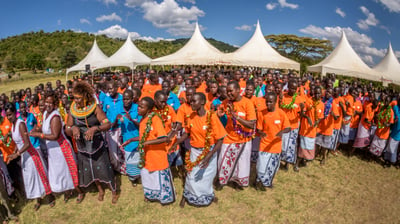 Five hundred girls and boys in West Pokot County, Kenya, graduate from an alternative rite of passage. During a weeklong program conducted by World Vision, they learned about the dangers of female genital mutilation and early marriage and how to avoid them. (©2016 World Vision/photo by Jon Warren)
Children are at the center of World Vision's programs. When we help a mother and father to build up their income-earning potential, they are better able to support their children to lead healthy lives and go to school. When we build latrines and hand-washing stations, rehabilitate classrooms, and when we train teachers and provide children with scholarships, we make it possible for more girls to stay in school instead of marrying early. When we organize child protection committees and train pastors, local officials, and parents to protect children, we put a ring of protection around girls and boys.
We also teach girls and boys their rights and how to advocate for themselves. Through our alternative rites of passage, they learn the dangers of FGM/C and early marriage and how to avoid them. They learn to value traditions that build them up and to end those, like FGM/C, that are harmful.
Sharon Cherop, a graduate of World Vision's alternative rite of passage in Kenya, affirms the progress being made against FGM. "On behalf of all girls: we will throw away FGM. Culture is strong, and we treasure and keep it, but when it holds you back and causes pain, we throw it away."