WORLD HEALTH DAY: Celebrating a milestone and not letting up
The global rates for mother and child mortality are unacceptable and heartbreaking. But progress is being made. On this World Health Day, we celebrate that progress and remain committed to equipping the most vulnerable with access to life-saving healthcare, so that every person can grow into who God created them to be.
More than 1 million reached
Through the Every Last One® Campaign, World Vision has now reached 1,034,0541 pregnant women, newborns, and children under the age of 5 through our mother and child health programs over the last six years. All of these precious women and children live in sub-Saharan Africa — the place where more than half of all under-5 deaths occur globally.2
Targeted solutions for the biggest problems
Around the world, children under the age of 5 are dying at the rate of one child every seven seconds.3 And the leading causes of death in these children — premature birth, birth complications, pneumonia, diarrhea, and malaria — are all preventable.
On top of that, a 2019 study by the World Health Organization (WHO) and UNICEF revealed that nearly half the healthcare facilities in sub-Saharan Africa do not have basic water, sanitation, and hygiene (WASH)4. "Imagine giving birth or taking your sick child to a health center with no safe water, toilets, or handwashing facilities," said Dr. Tedros Adhanom Ghebreyesus, WHO director-general.
World Vision's work confronts these statistics head on with a targeted focus on pregnant women and children under 5 through two key ways: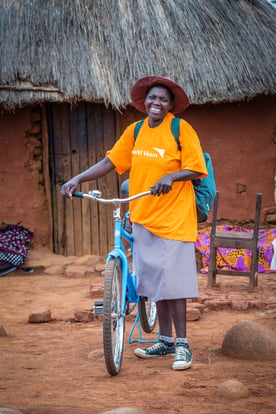 (1) Training and equipping local community health workers
Each of these women and men are the hands and feet of Jesus, serving an average of 50 households in their own communities. They regularly visit pregnant women and provide timed and targeted counseling on healthy pregnancies and good nutrition. These community healthcare workers are the book What to Expect When You're Expecting come to life.
In addition, they are trained and equipped to diagnose and treat children for pneumonia, diarrhea, and malaria "on-the-spot." For families who live far from a health clinic, this can be the difference between life and death for their children.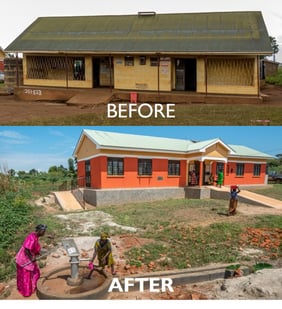 (2) Bringing WASH to rural healthcare facilities
When the WHO and UNICEF issued its 2019 report and global call-to-action to provide hygiene, water, and sanitation in healthcare facilities, World Vision responded with a commitment larger than any other non-governmental organization.
Our work in healthcare facilities is a comprehensive effort. It includes providing clean, on-site water, handwashing stations, toilets, and showers. We focus on making sure this work is sustainable by working with local communities and governments to ensure proper budgeting towards ongoing operation and maintenance needs of WASH systems.
Gratitude and opportunity
Our courageous and dedicated health experts and local staff — 99% of whom work in their home region — have achieved all major targets, even during COVID-19. But none of this work would be possible without the power of God and the generous donors and partners who invest, believing that every mother and child has a right to health and an opportunity to flourish, no matter where they live.
World Vision's scale, proven track record, diverse funding streams, and long-term community partnerships enable cost-effective solutions that can empower millions more vulnerable people who God loves. The average cost to train and equip one community health worker is only $1,500, and the average cost to bring WASH to a rural healthcare facility PLUS train and equip community health workers to serve an average population of 9,000 people is $125,000.
To learn more about our Mother and Child Health programs, see videos of the work in action, or review recent reports, visit worldvisionphilanthropy.org/Health. Help equip more people with access to improved, life-saving healthcare by giving to the Mother and Child Health Fund.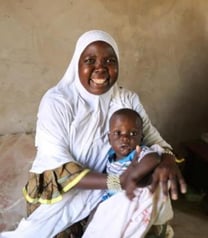 World Health Day has a name and a face, like Zara in rural Niger and her son, Sani — two of 1,034,054 mothers and children reached because of people like you. Thank you.
1The total number of direct participants reflects some people who might have received more than one service. For example, women who delivered their babies in a health facility often also received prenatal care services. These numbers reflect our Every Last One Campaign projects in Niger, Uganda, Kenya, Somalia, and Zambia.
2 UNICEF, Levels and Trends in Child Mortality, December 2021, page 16 https://reliefweb.int/sites/reliefweb.int/files/resources/Levels-and-trends-in-child-mortality-IGME-English_2021.pdf
3 UNICEF, Levels and Trends in Child Mortality, December 2021, pp. 12, 16
4 https://whi-site-images.s3.amazonaws.com/PDF/2020+WASH+in+Healthcare+Facilities+Trailblazers+Booklet.pdf