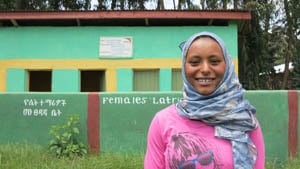 Fozia regrets the stories she made up to avoid going to school. "I mourned [the death of] my relative" or "I had to take care of my feeble grandma," she would say to the teacher. Fozia is 15 years old and is an 8th grade student at Mariye Junior Secondary School. The school has 45 teachers and 1,134 students that attend in two shifts, one early in the day, and a second group in the afternoon.
With such a large population, the 55-year-old school lacked toilets, tap water and handwashing facilities, and students defecated in the bushes behind the school compound. Because of her religious and cultural upbringing, Fozia was scared to use the bushes. ''I held in,'' she says shyly. She refrained from drinking water at school, fearing it would affect her health. When the classroom temperature grew warm and daylight was needed, Fozia often argued with classmates to keep the windows closed. ''The foul stench from the bushes that blew through the window made me sick,'' she says.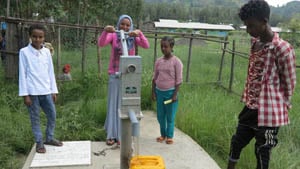 Raised by her Grandma, there was no money to purchase sanitary pads and every month, Fozia stayed home for four days in a row. Fozia could not find the courage to tell her homeroom teacher the real cause of her absence and remembers fabricating stories. In one academic year, she missed roughly 40 schooldays, which seriously affected her school performance. She thought about dropping out of school but decided to continue. The teacher was suspicious that Fozia was chronically truant, not knowing she was caught in a dilemma.
World Vision brought a Water, Sanitation and Hygiene (WASH) integrated project to Fozia's school in the Ambassel Area Program. World Vision drilled a borehole and laid out a water system that carried water to several new gender-based toilets and handwashing basins positioned in separate locations. The integration has created a private environment for the 496 schoolgirls and the 45 female teachers. Today, Fozia drinks as much clean water as she wants and never misses classes. ''World Vision took the days of shame off me and let them be bygones. I hope [those days] never come back to my life again,'' she says. Fozia's academic achievement is steadily improving. Her favorite subject is English and she wants to become a professor of English one day.
Fozia is a member of the school WASH Club that meets weekly to gauge the progress of WASH practices and latrine use in school and in the community. She has learned about health and proper hygiene, which she shares with others. Fozia believes the WASH Club is having a big impact in the community. ''Sanitary conditions in both my village and the school have dramatically improved,'' she concluded.