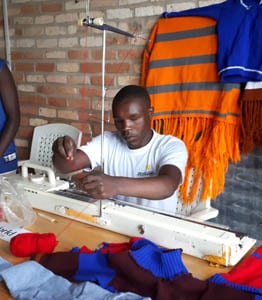 Uwitonze Kambali conveys a spot-on meaning to the common quote, "Disability is not inability". Kambali, 19 years old, is blind, but that did not discourage him from pursuing his dreams of being able to fend for himself. He wanted to have skills that are no different from people without disabilities.
Kambali is no stranger to loss. When he was a little child, his mother abandoned him. Being born with only one leg, one wonders if this played into his mother's desertion.
Later, his eyes got an infection that lasted for quite a long time. Since no one was really taking care of him, he didn't receive the necessary treatment. By the age of six, he not only became blind, but also lost his father to death. Having only one leg, he used to crawl in order to move from one place to another, eventually receiving a prosthetic leg. At the age of 10, an aunt took him in, but she was also living in abject poverty. She was not able to provide for most of his needs or even take him to school; therefore, he did not acquire any education.
As Kambali grew up, life was very miserable for him. "I would keep in the house all day, every day. I didn't think there was anything I could do with my life since I live with disabilities. I had neither any sort of education nor skills. I just vulnerably kept to myself, either seated or sleeping, but hoped that there was something more to life even when my health was so challenging," he recollects.
A few years ago, World Vision introduced Kambali to a new life. He, along with other people living with disabilities, received vocational skills training and support through World Vision. He started believing in himself and his mindset was transformed. He was awakened to the truth that he could do so much if he only believed in himself and tried out the new opportunities that were given to him. He learned tailoring and how to knit. Even after grasping tailoring and knitting skills, World Vision continued to support Kambali. "I acquired tailoring and knitting skills through World Vision. They went ahead and provided me with a sewing machine and other equipment I needed to put my skills to use. I started earning a living and I was so proud of myself," says Kambali. Kambali mainly makes sweaters and scarves, and sometimes receives business requests from schools to make sweaters.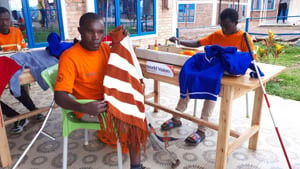 He further recalls, "Some people used to make fun of me, saying that I was capable of doing nothing in life. Today, they look on in amazement, too, when they see what I am able to do. Nowadays, I am able to meet my personal needs and my life has been enriched. I am more self-reliant now. I am so grateful to World Vision for empowering others and me who live with disabilities."
World Vision continues to empower people living with disabilities with the knowledge and skills needed to build a better life. Not only does World Vision focus on the Rwandans, but they spread this support to the refugee camps, too. It helps all individuals to be able to sustain themselves and transform their lives - learning that they have the ability to do so much more.