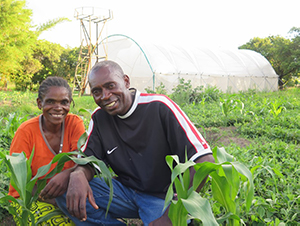 Bernard and his wife on their farm
In the Mpika Area Program of northern Zambia, World Vision is hard at work. Farmers have been introduced to the Economic Empowerment program called THRIVE—Transforming Household Resilience in Vulnerable Environments. It is a proven model for economic transformation and for altering world views that perpetuate poverty.
Morris and Bernard are neighbors. Separated by only 400 meters, the two men have access to the same irrigation canal and similar plots of land. Both are able-bodied and about the same age. That's where the similarities end. Bernard's prosperity, and its positive impact on his family, is a sharp contrast to Morris' poverty and the negative effect on his family. Bernard attributes his prosperity to the training he received from World Vision's THRIVE program. "They taught me how to do farming as a business," he said, and explained further, "That helped me move from a hand-to-mouth lifestyle to be where I am today."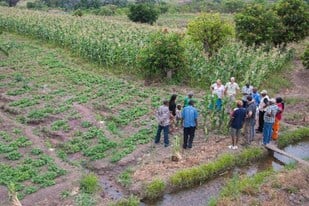 Bernard is explaining his farming program to visitors
Morris disagrees with Bernard's explanation. "I do not know what he uses," he subtly implied that witchcraft may explain Bernard's prosperity. The cultural belief that prosperity comes from spiritual forces is one of the major obstacles to economic empowerment in Zambia. It is generally believed that the 'demons' transfer wealth from other people to the prosperous. This view of prosperity, coming from the spirit world, takes away man's responsibility. The THRIVE program strives to change this mindset.
With the goal of radically increasing the income of vulnerable households, THRIVE seeks to empower rural farmers with the end-to-end business of farming and training about natural resource management. As important, THRIVE also teaches a Biblical worldview, which stresses responsibility and accountability by every individual.
This is a new concept for Morris. He and his wife struggle to feed and educate their nine children. Two of the children couldn't report to school because they could not pay the $3 fee required by the school. Asked about why he is not taking advantage of the abundant water supply to grow vegetables, Morris could not answer. We didn't meet his wife because she had gone to do Chitemene (a farming practice that is destructive to the environment).
Changing the cultural mindset is one of the toughest hurdles for overcoming poverty. Morris demonstrates that the 'software', or cultural factors, keep people in poverty even when the 'hardware' (water, irrigation, seeds and financial services) is available.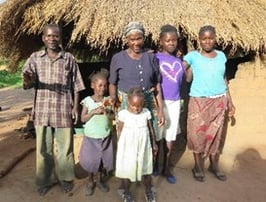 Morris, his wife and 4 of their children
These long-engrained cultural beliefs can be devastating. People feel trapped because they think that their fate can only change through external intervention.
The THRIVE training provides opportunities for a cultural paradigm shift. The training also challenges the participants to broaden their vision and start farming on a much bigger scale. Asked what it would take for him to start growing vegetables, considering that there is plenty of water for irrigation, Morris wished for a 5kg bag of fertilizer. Morris will be attending the THRIVE training and hopefully, he and other members of the community will have a new start of taking responsibility for their future, without the old beliefs of demons or other barriers to becoming self-sufficient. Soon, Morris's side of the canal will bring new life for his family.