Estella and Augustine Nsabika's story is one of family and faith, a strong demonstration of how World Vision is helping vulnerable households in Zambia climb the rungs of the economic ladder and increase their economic stability. This strong framework is the basis of THRIVE (Transforming Household Resilience in Vulnerable Environments) - growing families through education and faith.
With an air of accomplishment, Augustine showed me around his compound. "That used to be our house," he said, pointing towards a single room muddy house. He then took us to the new house he was able to build for his family. Augustine's new house is made of kiln-baked red bricks, iron sheets, and has window panes. The satellite TV antenna on the roof attests to their prosperity.
The contrast between the old and new house illustrates perfectly the transformation that has happened in Augustine's household. The entire village knew Augustine as a drunkard who did not take care of his family. "I would spend the little money we had on beer and go home without food for my family, and yet expect my wife to give me food," recalled Augustine.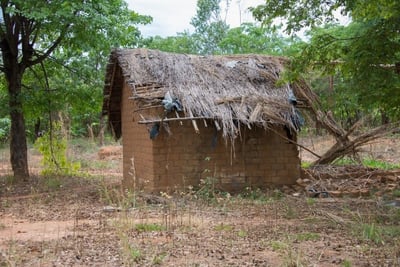 Augustine and Estella's old house.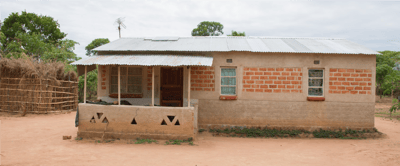 The new house.
Augustine's drinking habits, and his subsequent lack of finances, resulted in constant quarrels with his wife. "I reached a point where I decided to leave him," says Estella. Before Estella could leave her husband, someone invited the couple to a "Celebrating Families" meeting, organized by the World Vision THRIVE team in Mwamba Area Program, northern Zambia. By the end of the training, Augustine was a transformed man. He called his children and apologized for his selfish behavior, especially the way he wasted the resources for the family. "Beer is like a bank where you deposit money, but with no hope of ever withdrawing that money," says Augustine.
Estella joined a women's savings group. The loans from Estella's savings group helped the couple buy more agriculture inputs. They were also able to increase the acreage of their field. Augustine got so inspired by the women's savings group that he and a few other men decided to start their own savings group. The loans from the two groups, and the training in farming and agriculture management, further expanded the couple's farming output. The training helped Estella & Augustine work together to increase production and take better care of the land, two of the main goals of the THRIVE program.
Augustine & Estella were also taught how to leverage their increase of income by planning for the unknown. They wanted to be prepared and resilient if misfortune ever came their way. As life unfolded, misfortune struck when Augustine's sisters died. Augustine and Estella took in his late sisters' children. "Our home looked like an orphanage because of the many children we kept, including our biological children," says Augustine. Fortunately, their planning allowed them the resources to do this. Estella's words sum up the impact of THRIVE in the Nsabika household, "World Vision not only saved my marriage but it also improved the quality of our lives."