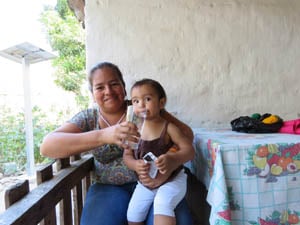 The sound of the water is beautiful, bringing peace. And if you close your eyes, you can almost feel it—the cold drops coming from the mountain, straight to your home. The sound can bring life and joy to a community. The sound is heard in the community of Lanita Verde in Honduras.
Here is where we find Maria Sarmiento (40). Green trees surround her home and a small river runs nearby. She lives with her husband, her daughter Marixa (24) and her two beautiful granddaughters: Keylin (7) and Francisca, who is a 12-month-old baby.
"Welcome to my house," she says happily, as she serves us a delicious cup of coffee. "I'm very happy to have you here; as you can see, the entire community has changed now that we have access to clean water," she says. Maria has lived in this community her entire life and as a young girl, she remembers walking long distances to collect water.
Maria's children had to endure the same walk, but due to climate change, the water was harder to find. "As you can see, we have a river close by, but it dries up during summer," says Maria. "It is also contaminated because wild animals and cattle use the same river," she says.
Maria recalls that many people in the community suffered from diarrhea, stomach diseases and skin rashes. Her granddaughters were often sick and had to walk one hour to the nearest health center. It took days for them to get better. "I always dreamed of having clean water at my house. I used to imagine the sound of fresh water coming out of my tap. But at that time, I thought this was going to be just a dream," she recalls. Just when things were getting worse in the community, World Vision stepped in with a Water, Sanitation and Hygiene (WASH) program.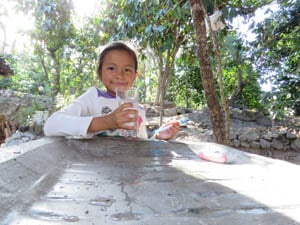 Maria and other community members identified a water source up in the mountains, but unfortunately, this water belonged to another community. "I felt disappointed; they didn't want to share their water source with us. But you know what? While we were up in the watershed,…the sound of the stream traveling through the pipelines gave me hope. [I thought], "Soon we will be celebrating with my community a new water project," she remembers.
World Vision helped the community identify a new water source and, together, built a water system that would provide access to clean water for the whole community.
Each day 129 men dug trenches and built the pipelines to bring water to each household. Maria and other women from the community carried construction materials to finish the water tank. Ten months later, the project is finished and now every household has access to clean water. Maria, her granddaughters and the community are healthy. Waterborne diseases have been reduced. The community held a celebration once the water system was completed. "The celebration was huge; children were laughing, people were happy and my dream came true," says Maria. "Now every time I open my tap I remember that sound of hope…the sound of water."