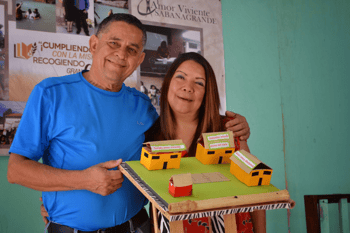 Pastors Roman and Fanny prepare a lesson
Sabanagrande is a small town located in the south region of Honduras. The people who live there are hard-working people. They are grateful that God's love is present in their community. Roman Bueso and his wife Fanny Zambrano have been living in Sabanagrande for more than 20 years. They both serve as pastors at the Amor Viviente Church, which translated means, 'living love church'. "Teaching Gods love to the youth and kids has brought peace to each person in the community," says Pastor Roman.
A few years ago, things were different in the community. Violence and bullying surrounded the school environments, gangs and other groups started to organize in the neighborhoods, recruiting vulnerable teenagers who didn't find love or acceptance at home. "We use to live in Tegucigalpa. But I felt in my heart, a call from God to move into this community. Because with His help, we knew that we could change lives," Pastor Roman remembers. He decided to serve God and become a pastor when he was 35 years old.
Their first approach with youth was very hard. They couldn't influence or communicate with those kids who didn't want to change their lives. "I couldn't understand them," says Fanny. "We tried to talk to them and convinced them to go to church with us… that we could help them change their life, but they didn't believe in us. I guess they didn't fully trust us." she recalls.
Both pastors were frustrated. They were afraid that the kids would end up selling drugs or hurting other people in the community. "We learnt that World Vision had a Christian Discipleship program. We got very excited and interested to learn about this project. This is what we needed to start changing the lives of those kids," Fanny says.
Pastor Roman and Fanny were trained by World Vision. Through the 'raising with Tenderness' methodology, they learned how to encourage a more loving environment in families and how to advise youth through training and bible verses about how to approach others with love. "This training is what we needed, I started to practice this with my family and I felt like a different man. A man with God on his heart," Pastor Roman recalls.
A few months have passed since the training. Today they have become trainers and are working with teachers, parents and other churches to reach those youth at risk in the community. Thanks to World Vision's support, they have formed a new Youth Group at church. Many teenagers who were in gangs and using alcohol and drugs, have turned their life to Christ and are inviting others to be part of this group. "Thanks to this project, we can say that our community has changed. I have faith that violence has been reduce among teenagers. Bullying has stopped at school and many youth are attending church and changing their lives. That's why I believe this is the promised land God wanted me to change," says Pastor Roman.