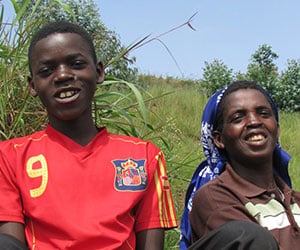 Sylvester always wondered why his family did not have the basics necessities to raise him and his five siblings, ranging from ages 10 to 23 years. He used to ask a lot of questions of his mother after school, like why he didn't have shoes, or books and pens for class. His classmates pestered him about his shabbiness and lack of school supplies.
Sylvester, 12, is the second to last child of Vincent and Ansilla. He is a sponsored child in the Mudasomwa Area Program located in southern Rwanda.
"As a child, I remember getting really frustrated with my mom because I kept asking her when we could go to the market to buy shoes like other parents do for their children before starting a new semester. She would always insist that she didn't know what I was talking about and that I had never owned even sandals before. She always said it must have been a dream, but I knew it wasn't," Sylvester said. "I was old enough to know the difference between a dream and a memory, and this was a memory of my classmate who used to change Nike shoes at school. I wondered why I didn't have at least a pair," Sylvester added.
"At that time, when my family was in extreme poverty conditions, my children were all malnourished, and our house was roofed with banana fiber. When it rained, we had to all squeeze together looking for warmth somewhere in the corner of the house…we had little hope that one-day things would be different," said Ansilla.
In 2016, World Vision encouraged Ansilla to get involved in a savings group. This group was composed mainly of mothers who had children in the program. They started saving about 23 cents per day with a goal of buying a farm as a group, and then creating a commercial producer group.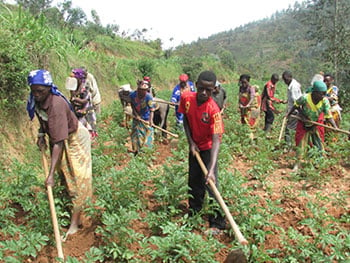 Ancilla & Sylvester farming together along with other Cooperative members
In the subsequent year, the savings group received different types of training from World Vision, including best farming practices and financial management. In 2017, they collected their savings and bought one hectare (2.47 acres) of land. This savings group also decided to organize themselves into a commercial producer group and started growing Irish potatoes. At the time of harvest, they sold together and earned respectable profits.
"Through these savings, I was able to buy health insurance for my family for the first time in our family history. Our children are now studying in much better conditions, and our hope for the great future is now possible because of the savings group," says Ansilla. "I no longer feel ashamed to go to school now, because Mummy buys me shoes, books and other scholastic materials at the beginning of the semester," Sylvester says.
"Though I walk 45 minutes down the steepest hills of southern Rwanda every morning to work…I do it with cheer and joy knowing that my children will have a good education and a great future," Ansilla says. "We have witnessed transformation in our family because of World Vision. We no longer worry about tomorrow, and the future of our children," says Vincent.
"World Vision is a good organization, because it gave an opportunity to my mother to belong in a savings group, and our lives have changed for good," Sylvester said.