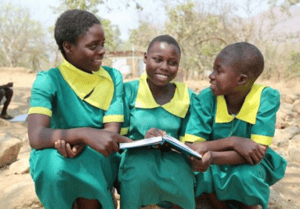 Instead of celebrating adolescence, 19-year-old, mother of two, Malita, recalls days filled with pain and societal seclusion, which resulted in her dropping out of school. Malita remembers that she and her female peers had to endure taunts and stigmas at school where there was no support as they went through adolescence.
During their menstrual cycles, they had to miss school due to lack of adequate washroom facilities, and their academic performances suffered in the process. Missing school forced Malita to repeat several classes until she decided to turn her back on education.
"It was bad," says Malita. "I did not completely want to stop going to school, but imagine being at a place where the cycles could start anytime and you had nowhere to go and help yourself with all eyes in the class stuck on you?" According to Malita, many other girls dropped out of school as well.
Helping adolescent girls stay in school with proper care and support
Four years after Malita dropped out of school, the story at Kholombidzo Primary School, which she used to attend, is very different. Girls are motivated to continue with school thanks to sanitary toilets that World Vision constructed through its Water Sanitation and Hygiene (WASH) project. These toilets give all girls the privacy they need during school days.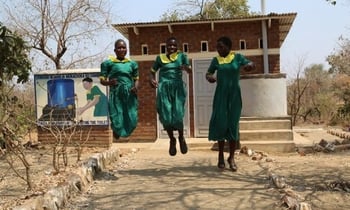 Doreen (center) and her friends jump for joy in front of the new facility at their school.
Thirteen-year-old Doreen, a grade eight student at Kholombidzo Primary School, is one of the girls benefitting from the new latrines with a specially fitted menstrual hygiene facility room. The new room, accessed only by girls in the senior primary section and those experiencing menstrual cycles, gives the space, privacy and facilities needed to support them during their menstrual cycles.
Female teachers also serve as matrons and provide the girls with reserved sanitary pads. "We then come to this room where we clean ourselves and go back to the class room to continue with lessons," Doreen says. "Now, most girls at the school are happy and attending classes during their cycles since they are receiving support and care during such times."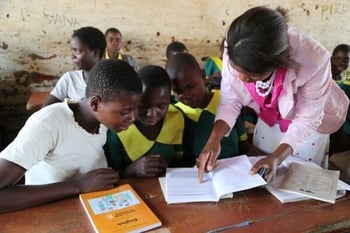 Christina helping the girls access sanitary napkins and information about their changing bodies.
Christina, a teacher at Kholombidzo Primary School, is helping girls as a matron. She says in village schools like theirs, issues of menstruation are very critical among girls and society. She added that such issues have great impact on girls and their education.
"Our girls are not ashamed anymore," says Christina. "They can access their safe room whenever they want and privacy is one hundred percent guaranteed."
Today, Christina celebrates that girls are returning to school, motivated by the amount of support they receive during their menstruation cycle. "Almost all our senior girls who went home for the annual holidays are back in grade eight," she said. This is impact.