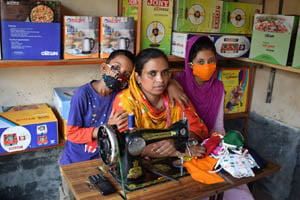 "Just the week before [the] lockdown started in our area I filled my store with new goods. I brought mostly the kitchen items like [the] electric kettle, fan, iron, gas stove, and rice cooker. I invested all the savings that I earned from my tailoring store," says Sahinoor, 35, an entrepreneur and a single mother who is raising her two children Shanta, 15, and Shourav, 7. She lives in a slum in Khulna, a city in southern Bangladesh.
Sahinoor's first husband was a boatman and a porter, who abandoned her when Shanta was five. Seven years ago, Sahinoor married another man, but their marriage lasted less than two years. Her second husband left after Sahinoor delivered Shourav because she became severely sick following childbirth. Left to provide for her two children, Sahinoor worked several years peeling the plastic lining from paper bags used to hold chemicals for the shrimp processing plants.
The chemical in the plastic burned her eyes and skin and made Sahinoor sick. She could not work regularly and was forced to pull Shanta out of school. Shanta accompanied her mother and worked in the factory for one year for their survival. "Shanta was sick when we found her," says Abeda, a World Vision Child Protection project manager. World Vision offered Shanta the Life-Skills Based Education course, which helped her dream again with confidence. After receiving tailoring training, a sewing machine and fabrics from World Vision's Child Protection Project, Shanta started her tailoring shop and contributed to the family income. "Soon Shanta taught her mother Sahinoor sewing skills, [which] doubled their family income," continues Abeda. "This stable income helped Shanta and her brother return to school. Also, Sahinoor saved a portion of their daily income, reinvested her savings and increased capital."
Sahinoor was sewing dresses from home when the government declared a lockdown in their area to prevent a coronavirus outbreak. Through her connection with World Vision, Sahinoor learned about educating her community about the pandemic. She delivered key information about the coronavirus to her customers using the leaflets she received from World Vision. "I encourage them to stay at home unless they have an emergency need and always to wear masks while they go out," says Sahinoor. "Many customers reported that masks were not available in the local market, so I started making masks with fabric and selling those to my customers at reduced prices. I distributed the masks for free when anyone did not have money to buy it. I told them to wash their hands with soap and running water for 20 seconds and to use a handkerchief or tissue paper while coughing or sneezing. I also encouraged customers to maintain social distancing," she adds.
"Sahinoor treats her customers with respect, and thus, she became a good entrepreneur very rapidly. Her neighbors also respect her. Community leaders also trust Sahinoor and assign her to liaise with local government offices for cascading the government's services to families," says Abeda.
Sahinoor is thankful for World Vision's training and support. She now earns 300 takas ($3.50) daily, allowing her to take care of her children and provide them with food, clothing and schooling. She also looks for ways to support her community. "I want to help my neighbors, to make their life easy and protected in the middle of this coronavirus outbreak," says Sahinoor gratefully.