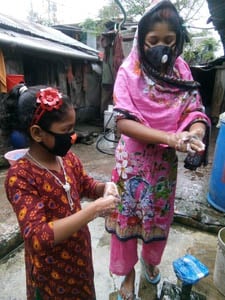 The impact of COVID-19 has changed the entire world. In one community in Bangladesh, a Hidden Hero has emerged to help slow the spread. Meet Rumi, a 16-year-old who lives in a slum with her parents and brother Rummon (9) in southern Bangladesh. "I mostly invest my time helping my parents in household chores, playing with my younger brother and messaging my community with my peers. My school and life have greatly changed…now I spend my days at home to stay safe from the coronavirus contamination. I miss my normal days," says Rumi. She completed high school this year and now disseminates life-saving messages to communities through the Chader Alo ("moonlight") Child Forum mobilized and inspired by World Vision's Area Program in Barishal City.
Rumi's younger brother is a sponsored child of World Vision. This sponsorship program opened the door for Rumi to attend awareness sessions, life-skills education and rights-based orientations organized by World Vision. Rumi and her peers gathered and provided community information to World Vision and other NGOs, including BRAC (Building Resources Across Communities) and Red Crescent to better inform the development efforts.
The Chader Alo Child Forum is making an impact in many ways. "Having strong coordination with the local urban neighborhood development committee, we stopped the marriage of four girls who were between 14 to 15 years old. We withdrew 20 children from child labor and brought them back to school again," says Rumi. "We also messaged [a] thousand people against drug abuse."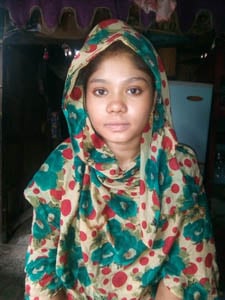 Rumi adds, "I first heard of [the] coronavirus from television and tried to learn more about it from World Vision. Soon we learned about hand washing and maintaining personal safety measures. We distributed behavior-change communication leaflets, 500 masks and hand washing liquid to the communities I live in." Rumi and her peers set up a barricade at the main gate of their community and ensured mandatory hand washing for everyone who entered the community.
Yasin Ara Rumaiya, a World Vision community facilitator who monitors the sponsored children, works closely with Rumi and praises her efforts. "When Rumi goes to the community, she always wears a mask and encourages [the] community [to keep] social distances. [If] a person cannot read or write, Rumi always reads and explains about the coronavirus—its basic symptoms and prevention measures, including hand washing procedures, keeping social distances and staying at home to stay safe." Rumaiya adds, "I have scouted all the families in our community. It is a joy for me to see people happy to learn about the coronavirus from us. I am so happy that no one is affected in our community so far. I hope our community shall remain safe from coronavirus. I hope this coronavirus will go away soon. Thank you to World Vision for partnering with us in the community in this hard time."