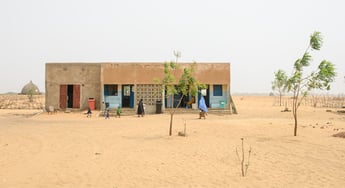 Nigerian mothers and children visit a remote and
dilapidated health clinic.
Imagine a world in which one of the most dangerous things a woman can do is have a baby.
In many places around the globe, expectant mothers don't have to imagine such a scary scenario — they live it. The West African country of Niger ranks last of 189 countries on the Human Development Index, a summary measurement of the key dimensions of development; namely life expectancy, education, and income capability.
In Niger, two in three health clinics do not have clean water on the premises. But all clinics are understaffed and undersupplied. More than 11,000 community health workers are needed to serve the population. And critical medical equipment and supplies are desperately needed to care for patients.
Watch the video below to get an inside look of a health clinic in Niger.
World Vision works alongside the community to improve healthcare for mothers and their children in places like Niger. World Vision and our partners celebrate that in the last seven years, over 1 million pregnant women, newborns, and children under 5 years old have received essential healthcare, nutrition support, and treatment through mother and child health programs. But there's still work to be done to help ensure that every child can grow into who God created them to be.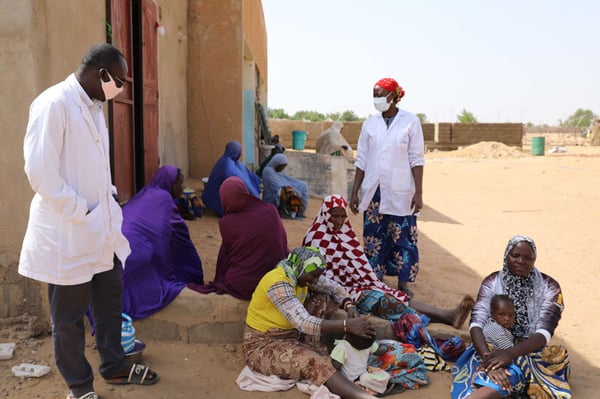 Dr. Zakaria and Nurse Roukaya meet with Nigerian mothers and children who are waiting outside the Boulounguéy health center.
The need for clean water
It's 10 a.m. at the health center of Boulounguéy, located in the Dosso region of Niger. Men, women, and children are sitting everywhere, even on the ground in the courtyard, waiting and hoping for their turn to meet Dr. Zakaria or Nurse Roukaya.
"Roukaya and I work from morning to nightfall because we are always overwhelmed," Dr. Zakaria says. "We receive nearly or more than 100 patients every day." There is a desperate need for critical medical equipment and supplies in Nigerien health clinics. And one of the greatest needs is the also the most simple: 67% of healthcare centers in Niger don't have basic water services.
"It's been one year and a half since I started working in this health center," explains Roukaya. "Truth be told, the first few days were not easy for me. All the deliveries I do are done with the light of my smartphone because there is no electricity here. I was nauseous all the time and I could not eat just thinking about all the blood on my hands and in the room, because the water that mothers bring is often insufficient. We have to wait for their relatives to go back to the village and fetch water to clean the floor, the objects we used, to wash the mother and her belongings."
Dr. Zakaria and Nurse Roukaya are tireless advocates and heroes for their community. But they don't have to serve alone. With your help, we can come alongside them and support them as they offer life-saving care to the people. Together, we can help make life and hope a reality for thousands of mothers and children by equipping rural health clinics with clean water and other critical support.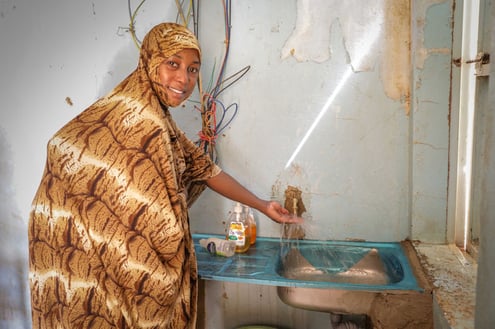 Midwife Balkissa happily shows the clean water available in all the rooms of Kayan health center.
Equipping clinics with clean water changes everything
Balkissa has been her community's midwife for the past year and a half, and describes her work before her clinic got access to clean water.
"After childbirth, when the water brought by the women was not enough, which was very common, I had to wait for the arrival of another jerrycan of water," she says. "The case that saddened me the most was one night when a woman gave birth at 3 a.m. and there was blood everywhere, but until 10 a.m. the room was not cleaned since they had not had water." She shakes her head sadly.
But that changed in December 2021. Thanks to generous partners like you, World Vision equipped the health center with a water supply, latrines, and waste management supplies. Now not only the health center but also the people in the village have access to clean water.
Join us in helping improve healthcare in Niger
The book of Proverbs tells us, "May your father and mother rejoice; may she who gave you birth be joyful!" (Proverbs 23:25, NIV).
As we consider the challenges in Niger and other parts of the world, we remember that the arrival of children should be a cause for rejoicing, not grief. Currently, one in 13 children in Niger don't make it to their fifth birthday, largely due to preventable pregnancy and birth complications, pneumonia, malaria, and diarrhea. But it doesn't have to be this way.
Thanks to a generous donor partner your gift will be matched*! Your gift will help bring clean water, handwashing stations, toilets, and showers directly to health clinics, train and equip Community Health Workers and existing health clinic staff, deliver critical medical equipment and supplies, and mobilize local faith leaders to reinforce key health messages.
Please prayerfully consider partnering with us today to bring clean water to health clinics in Niger.
*up to $2.5M