"I stopped begging on the streets with my father, because I go to school now," says Mustaque, a 6-year-old boy who is one of twenty- five children participating in World Vision's Child Friendly Space (CFS). Corneal scarring from measles left his father Murad (33) blind. Because Murad had never been to school he had no job skills and made his living by begging on the streets, often bringing his children along to help. World Vision Bangladesh's Child Protection Program identified Mustaque, enrolled him in the CFS, saving him from becoming part of the next generation of beggars.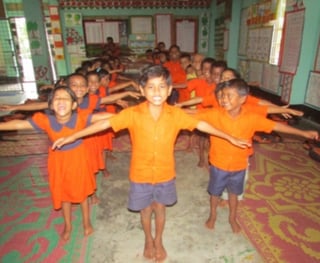 Mustaque leading an exercise with his friends
Mustaque's grandparents were Urdu-speaking Pakistanis, also known as `Biharis'. They migrated from the Indian province of Bihar to East Pakistan (now Bangladesh) many years ago. The Bihar people opposed the creation of Bangladesh, therefore its people were forced to stay in refugee camps, seventy total in Bangladesh. These camps have been managed by the Stranded Pakistani General Repatriation Committee (SPGRC) since the Liberation War in 1971. The Bifaris brought their language and culture with them, which are different from the Bengali language and culture widely used in Bangladesh. For this reason, they have remained isolated in camps and work in low-wage jobs, such as cleaners, sweepers or trash scavengers.
Like his father Murad, Mustaque was also born and raised in a SPGRC refugee camp. (Refugee Camp)With his father, his mother Shilpi (28), and his sister Hiba (11), Mustaque lives in Barandipara camp, where thirty-two Bihari families live in small huts made of corrugated iron sheets and earthen floors. They have no basic household furniture and limited access to electricity, water and sanitation. Here, Shilpi is a homemaker and, for many years, Murad took their children to assist him when he conducted his daily begging. "Many people scolded me for engaging my children in begging," says Murad. When Mustaque was not accompanying his father, he begged alone for coins, waste food or sugar, which he brought to his mother.
"Once, I met them at the Jessore railway station and was shocked noticing the struggles of Mustaque while guiding his blind father for begging in the crowded bogies," says Rita, the CFS facilitator. When Rita and the CFS staff enrolled Mustaque in World Vision's program, Mustaque began learning to read, write and count. He also learned important personal and social behaviors—such as managing emotions and handling conflict in group settings. (Group Time) Thankfully, because he spent his days at the CFS, he did not have time for begging.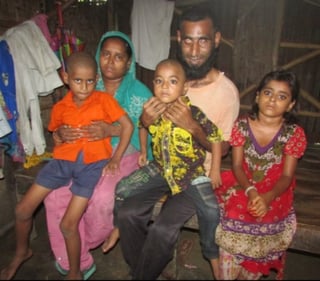 Mustaque with his family at home in the SPGRC
Mustaque's parents have also benefited from World Vision's intervention. The parenting skill training convinced them to keep their children in school. It also inspired Shilpi to start a needle-craft business and her mother-in-law to make paper bags for commercial use. Together they earn about 265 taka a week ($3.60 US) which supplements the family income. (Needle-crafts)
"Mustaque is now disciplined and does not beg anymore. He keeps himself neat and clean," says Shilpi. "Thanks, World Vision, for helping me realize that I was spoiling my children's future by making them beggars," continues Murad. "Though I need an assistant for walking, I send my son to the CFS."
Murad now takes an adult assistant with him on his begging trips and pays them 50% of his earnings. Meanwhile, Shilpi keeps the house well, takes good care of their children and keeps them healthy.