Murshida, 15, is the youngest child of Nachima, 46. She lives in the Bagmara community with her mother, sister Khaleda, 22, and her aunt. Murshida survived working in a shrimp processing plant for three years, endangering her health and interrupting her education. "My sister and I worked in a cold, moist and slippery environment, especially on the night shifts," Murshida says. Both girls suffered from swollen hands and feet, fungal infections and muscle pain.
As a single mother, Nachima moved her family to Khulna. "I often begged on the street, chopped firewood, and sometimes worked as a maid. I hardly could make $1 a day…" Nachima says. When Nachima could not provide writing notebooks, pens, and uniforms for Murshida, she was forced to drop out of school, beginning her work as a child laborer.
World Vision stepped in and worked with Nachima to help her remove her girls from the shrimp processing plant. "World Vision staff taught me Life Skills that provided me real-world examples and les-sons. I confidently decided to start studying again," says Murshida.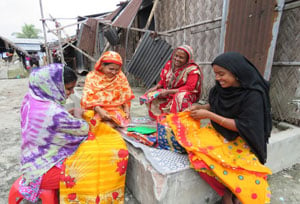 Nachima selling fabric in her community (2nd from right)
"We prepared Murshida for school and provided her school supplies, a bag and uniforms she needed," says Piya, a community facilitator who withdrew her from work. Murshida returned to school last year. "For a year, I received $12 cash grants per month from World Vision," says Murshida. This helped the family compensate for her lost income. "Using this money, my mother provided me tiffin (light snack), transportation and monthly fees for my private tutor." When Nachima completed the Parenting & Income Generating Training, World Vision provided her with fabric to start her business.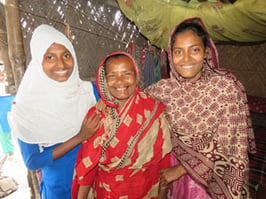 Murshida, Nachima & Khaleda sharing a light moment
Nachima is now surrounded by her loved ones and breaths the fresh air of happiness. She shared that World Vision's help has improved their lives for the better and allowed her family to live fully. She sells her fabric in the community and makes about $90 per month. She keeps detailed sales records and carefully chooses inventory that reflects the tastes and preferences of her customers. Nachima advocates for an end to child marriage and urges every fabric customer to send their children to school. "We eat three meals with fish and vegetables regularly and have meat at least once a week," says Nachima. She can even bank some of her money every month. Khaleda sells 'fuska', a homemade dish in the community, and supplements the family income.
As for Murshida, her childhood has been restored. "After school, I receive tutoring from World Vision's center…I'm able to dance, sing, play, and study again with my friends. I dream to serve vulnerable people as a police officer," dreams Murshida. Once again, Murshida can live her life fully.