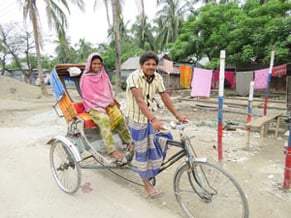 Iman takes Fatema in is new rickshaw
"I always take good care of my wife and children so that they feel my love and affection. The man who does not love his wife and children is not a human being to me," says Iman Ali, a 42-year-old man. Iman lives with his wife Fatema, 35, daughter Sumi, 12, and son Al Amin, 9. Their home is a single-story house made of bamboo and corrugated iron sheets with a mud floor. Iman does not own his land, as it belongs to the Bangladesh Railway in Khulna City. Along with the stress of living in an extremely congested environment, Iman is at risk of being evicted by the Railway Department at any time.
Like Iman, most of the slum dwellers in this community are migrants from remote villages. Iman came into the city in search of a better life. To feed his family, Iman has been pulling a rickshaw since he migrated to Khulna City. Using his rented rickshaw, he hardly earned 100 to 150 taka ($1.25 to $1.87) a day - not enough to feed a family of four. Several years ago, Fatema had a stroke that left her right hand and foot paralyzed. Sumi began skipping school to help her mother with household chores. After Iman injured himself lifting heavy loads onto his rick-shaw, the family was in peril. "We did not have food to eat," says Iman. To help to earn a living, Sumi dropped out of school completely and became a domestic worker for a wealthy family, earning only 300 takas ($3.75) per month. "I always gave this money to my mother," says Sumi, so her mother could buy food. Sumi missed school for two years.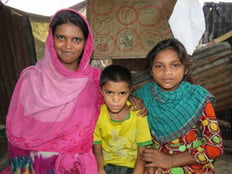 Fatema, Al Amin & Sumi with their Vision Board
A few years ago, World Vision visited Sumi and her family. "Sumi told us that she wanted to return to school. That was her new beginning. "Both Iman and Fatema agreed to help Sumi for schooling," says Moitry, a World Vision Child Protection staff member. The project invited Sumi to the Child Friendly Learning and Recreation Center and offered her catch-up education. Sumi prepared well and successfully passed the admission test for a local public primary school. "While we enrolled Sumi in school, World Vision provided her 1,000 taka ($12) cash grants per month for a year that mostly we used for her school supplies, transportation, and a light snack in the school," says Fatema. The project offered Sumi life-skills based education that taught her self-awareness, decision-making and how to manage stress and emotions. To raise the family income, World Vision provided Iman with a new rickshaw so he could pay rent and provide for his family. Having a rickshaw of his own made him independent and reduced his stress and burdens. He makes 500 taka ($6) per day. "World Vision taught us good things about parenting," continues Iman, "Now I do not scold or beat my children. They are my world. I love them more than myself. Besides my rickshaw-pulling work, at home, I help my wife cooking food, sweeping [the] floor, cleaning dishes and washing clothes. I also bathe her every day and help her to wear clothes."
"Iman set up a good example of a 'caring husband' and a 'loving father' for his family and the community," says Moitry. "When we arrange awareness meeting with the parents in the community, we ask participants to follow Iman's style as he is a good help to his wife. He is the one in a thousand husbands in Bangladesh."
Sumi agrees. "Our father works hard for us. He always helps our mother with household chores. He feeds her three times by his hand. He is the best," Sumi exclaims with joy. She continues, "I want to be a teacher and look after my parents first and teach my students about helping each other!"