At World Vision, we're committed to prioritizing women and girls in all our work because everyone benefits when women and girls can reach their full potential.
But in many cultures around the world, traditional cultural practices hold girls back from knowing their God-given value. Female genital mutilation (FGM) is one of these: Symbolizing the transition from girlhood to womanhood, it's a valued traditional practice in some regions — done on girls as young as 10. FGM is often a precursor to child marriage. Both FGM and child marriage can have devastating physical and psychological effects for girls.
What holds girls back?
About 4 million women and girls in Kenya alone have been subjected to FGM. And the economic pressures resulting from the pandemic are expected to cause an additional 10 million child marriages globally in the next eight years — on top of the estimated 100 million child marriages that were already projected to occur.
In some Kenyan cultures, a daughter's worth can be tied to a bride price a man will pay her family, money that can be the difference between survival and starvation for families living in poverty. Families also often choose to prioritize boys' education over girls, since so many girls get married young anyway. Deeply rooted cultural practices that hold children back from their potential need comprehensive solutions — and that's World Vision's specialty.
Empowering Kenyan communities to protect children
In Samburu County, 86% of women ages 15 to 49 have undergone FGM, and 77% of them were cut to become eligible for marriage. Only about 1 in 10 girls is enrolled in secondary school here. But one teacher, supported by the Kenya Big Dream project, is on a mission to change this.
The only child in her family to complete her primary education and pursue a college degree, Florence now uses her influence as a teacher to encourage the communities around her to end FGM and child marriage. Working as the deputy head teacher at a primary school, Florence gets to reach young girls and boys with messages about the value of education. "As a teacher, I am a mentor of women and girls in my village," she says. "I challenge them to educate their children. I mentor women and youth groups on empowerment and support for education in five villages."
Florence remembers how, in sixth grade, men started approaching her family with offers of marriage for her. "I was affected by FGM as a girl since no one knew any other way," Florence says. "But as a mother of girls, I will make sure my daughters are protected and will not go through it." Though her father had already accepted one of these marriage offers, local missionaries helped keep Florence in school and pay for the fees instead, "and that is how I escaped early marriage, for my father would not have [provided] the money needed for high school fees."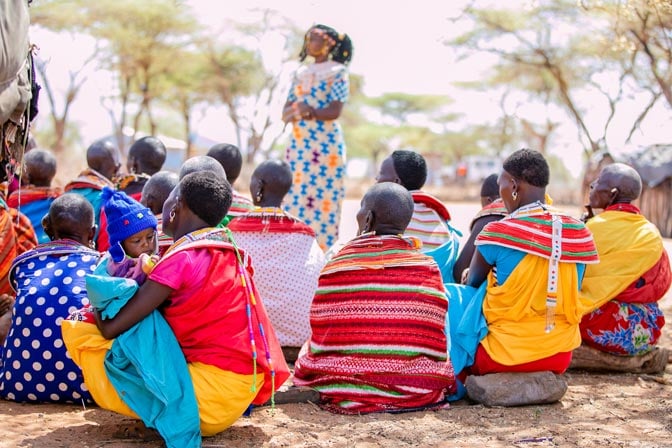 Florence teaches community members in Samburu
Uniting Kenyan communities with hope
Turning the tide on child marriage and FGM requires a multi-sector approach to create lasting change. Following INSPIRE — the WHO's evidence-based strategies for best practices in child protection work — the Kenya Big Dream:
Changes social norms harmful to children

Strengthens household economic conditions to reduce financial incentives for child marriage

Promotes education and life skills training for girls, and more
When all kinds of community members can work together, big change is possible.
Rodah is a role model for girls in her community — in a patriarchal society, she's become one of Kenya's first female chiefs. When girls see her, they know they can also dream of all the roles available in society. Rodah says, "World Vision leadership training has helped me to better engage with people in the community on pertinent issues such as education."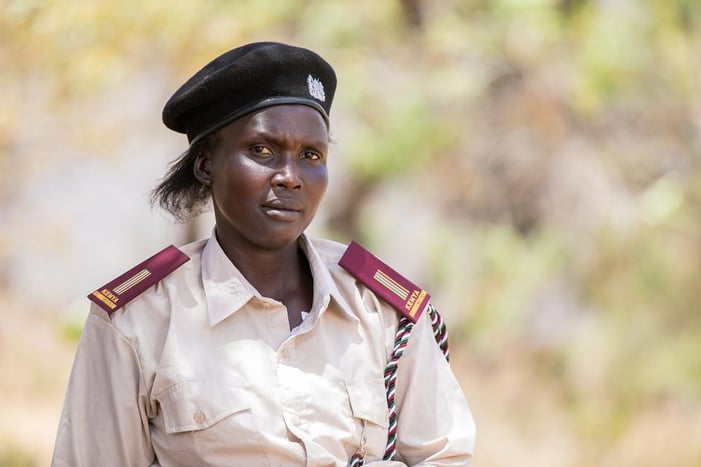 Chief Rodah, the region's first female chief
Through World Vision's Community Change training, she and local elders learned how to work together, and she stopped encountering resistance due to gender bias. "They are now very cooperative, unlike before when it was difficult to get their support as a woman," she says. Together, they have saved girls from FGM and child marriage, encouraged all children to get an education, and raised awareness about child protection issues.
By participating in Alternative Rites of Passage (ARP) events, both girls and boys learn new perspectives on FGM and the value of education. After Ibzan's sisters attended a World Vision ARP camp, Ibzan said, "FGM is bad and unnecessary ... and I am convinced that education is of great value to girls and boys equally."
Engaging faith leaders and pastors is another key to helping communities understand the importance of child protection. Pastor Joshua helps lead families in programs like Channels of Hope for Child Protection and Celebrating Families. They've made a big difference in the community, he says. "Children are more protected, and parents take more responsibility to care and protect them." And Pastor Joshua is even equipped to lead his own family well, helping show change at the family level. "I am now close to my daughters unlike before. Recently one of my younger daughters told her mum, 'Papa is my friend.' There is no more gap like before. There is love in my family."
Educated girls create stronger communities
When a community comes together, empowered and educated, they can create unstoppable hope. We dream of a Kenya without FGM and child marriage and are working to ensure that girls and boys are cared for and protected from all forms of violence, growing up in supportive families and communities.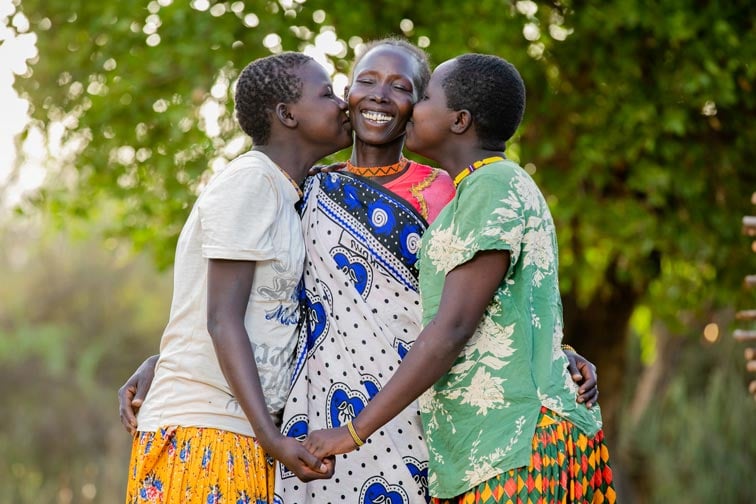 A mother and her daughters in Samburu
This dream is big, but it's achievable within our lifetimes. In over 10 years of work in Kenya, we've seen the acceptance of FGM and child marriage plummet. And girls' secondary school enrollment rates have skyrocketed in West Pokot — an area where they were once nearly zero.
You can join this dream and help provide girls access to education and opportunity.
$294 can help cover a girl's school fees for one school year

$882 can help cover three girls' school fees for one school year

$1,176 can help cover four girls' school fees for one school year
World Vision's sustainable community development approach is shifting attitudes and actions to better protect children. Together, the Kenya Big Dream project can empower all girls and boys to know they're worthy.