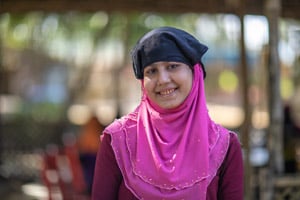 "My family risked everything to escape by sea, and on foot, the deadly crackdown by Myanmar's army on Rohingya Muslims. We fled across the border into Bangladesh," says 17-year-old Supaira. In August 2017, Supaira began her life in the Rohingya Camp along with her parents and six siblings. The Rohingya are one of the largest ethnic minority groups (largely Muslim) in Myanmar. Families like Supaira's fled, after Buddhist-backed troops burned their villages, attacking and killing civilians.
The Bangladesh government opened the border and accepted the Rohingya, permitting them to build their camp in the hill tracts. The area was a reserved forest, but barren and never suitable for dwelling. Today, the camp accommodates nearly one million Rohingya and is the largest refugee settlement in the world. "When we fled Myanmar, my family was not able to bring any of our belongings from Myanmar," says Supaira. Her family risked financial loss, hunger and life without electricity or clean water. Most of the Rohingya, including Supaira's family, built their houses with bamboo and tarps on the uneven hillside. This terrain is challenging to navigate, especially for elders, pregnant women and children. Hygiene was a challenge for families due to the lack of toilets and clean water. Later, many support agencies constructed community toilets and installed boreholes to ensure access to water, sanitation and hygiene.
Supaira's family felt stranded in Camp-13. When the Bangladesh government invited agency support, World Vision started its multi-dimensional program to serve the Rohingya communities. "At the beginning, World Vision staff went to our home and asked us to study and learn to tailor," says Supaira. World Vision provided Supaira a six-month sewing class to learn to make women and children's dresses.
When the COVID-19 pandemic began, Supaira became an advocate for World Vision. "Before the coronavirus out-break, we were living happily. We could move around as we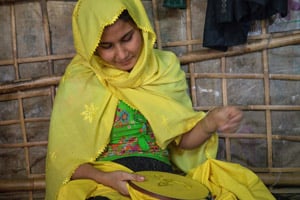 wished. People could go out to earn a living. But when the lockdown was imposed, people were in a bad living condition," says Supaira. World Vision provided Supaira training on COVID-19 prevention. Since then, Supaira has been teaching adolescents how to prevent COVID-19 transmission. "I demonstrate how to wash hands with soap and running water. I also tell them to wear masks and maintain social distance with others to ensure safety," says Supaira.
Supaira also learned needlework. She now makes and sells handmade fans, cushion covers and scarves to her neighbors for extra income. "I designed a scarf at home and sold it for $4. I gave that money to my father and he was so happy," says Supaira. Her extra income has helped keep their hope alive for a better life. Through the training from World Vision, Supaira has a brighter life with a purpose. "I am so happy that we could learn those skills from World Vision," says Supaira, with appreciation.