More than 200 million women and girls around the world are living with the results of the dangerous practice of female genital mutilation (FGM/C), also known as cutting and female circumcision, according to a report by UNICEF, the U.N. children's agency.
In the next decade, 30 million more are at risk. The United Nations created the International Day of Zero Tolerance for Female Genital Mutilation, observed every year on February 6, to stop this harmful practice to girls and women. Ending FGM by 2030 is also part of the United Nations' Sustainable Development Goal to achieve gender equality and empower all women and girls.
In many cultures, FGM/C is a traditional practice often carried out in childhood or adolescence as a rite of passage into womanhood or a prerequisite for marriage.
After FGM/C, many girls don't return to school, becoming child brides and child mothers instead. A daughter marrying lessens a household's economic burden and provides an immediate benefit in the form of gifts, such as cattle, that the family receives as a dowry. This contributes to parents — especially those immersed in poverty — marrying off their daughters at a young age.
While the practice has no medical purpose and there is no religious justification for it in Christianity or Islam, it is deeply rooted in traditional cultures, especially in sub-Saharan Africa. In Kenya, 23 percent of girls and women ages 15 to 49 have experienced FGM, despite FGM becoming illegal in 2011. The nation also set a minimum age of 18 for marriage starting in 2014.
World Vision is helping to change attitudes and behaviors in Kenya
In northwest Kenya's West Pokot County, World Vision is in the midst of a four-year project to end FGM/C, child marriage, and other forms of abuse and violence. More than 200,000 children and adults are benefiting from: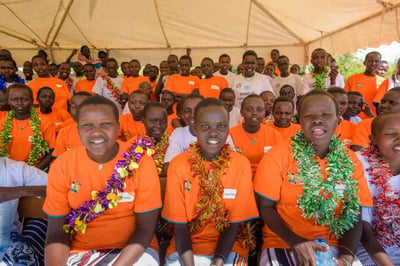 Girls and boys learning about the harms of FGM/C and

about alternative rites of passage
Alternative rites of passage — Girls and boys learn why it is harmful and instead celebrate alternative rites of passage during the December school break, a customary time for girls to undergo the practice. "On behalf of all girls, we will throw away FGM," says Sharon Cherop, one of 330 girls who participated in a 2016 alternative rite of passage organized by World Vision.


Education and income support — Scholarships provided by World Vision make it possible for survivors of abuse, including girls rescued from child marriage, to attend school. Reformed circumcisers and parents whose children are at risk of exploitation receive livestock or other income support.


School improvements — World Vision is building classrooms, science labs, dormitories, teacher's housing units, and boys' and girls' latrines to accommodate more students in better facilities.


Birth registration — World Vision has helped hundreds of children obtain a birth certificate, which proves their identity and provides legal protection against exploitation based on age.


Training and prevention — Radio talk shows and dramas highlight child protection concerns. Through World Vision's Channels of Hope for Child Protection, faith leaders help to combat negative beliefs. Parents, educators, community leaders, and law enforcement officers learn to work together to protect children.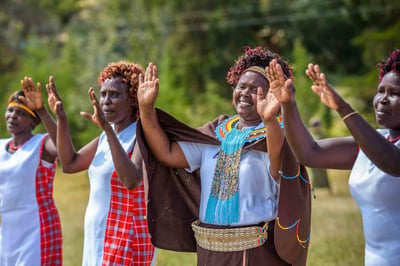 Gladys Koyet (brown cape) joins local musicians and civic leaders to celebrate graduates of the anti-FGM program.
Gladys Koyet, the headmistress of St. Catherine's Secondary School where the Alternative Rite of Passage program was held, dreams big for the girls who are in her care. Nationally, less than 46 percent of Kenya's girls attend secondary school, so she knows that many factors, including family pressures, FGM, and child marriage make it hard for girls to stay in school.
She encourages girls in anti-FGM training at her school to continue their education. "Education makes you self-reliant," she tells them. "We want you to come back to be the professors, the teachers, and the principals of the schools where you are learning."
Changing deeply entrenched cultural practices takes time and persistence, but there's strong evidence that FGM can be eliminated in one generation. World Vision will continue educating and empowering girls and their communities to end this harmful practice so life in all its fullness can become a reality for every last one.