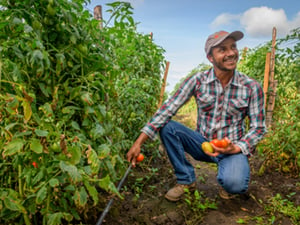 Before the COVID-19 pandemic hit, World Vision staff traveled to Honduras to see how World Vision is addressing the root causes of emigration from Honduras to the United States, and empowering families to have hope at home in their own country. We created a video that shares our approach while showcasing the natural beauty of Honduras and the strength and love of Hondurans for their country. It's longer than our usual videos at 11 minutes, but is well worth the time. Please watch this special video.
Our "Hope for Honduras" program has separate urban and rural approaches because the issues that cause migration are different in rural farming communities than they are in the cities.
In the video, we visit Jamastran, a rural farming community, where we meet José Luis. Like many Hondurans, José made the difficult decision to emigrate to the US because of extreme poverty and a lack of opportunity. But then World Vision provided a clean water source for a community development effort that also included economic empowerment through THRIVE with its improved farming practices and market orientation. José (above) is now one of the most successful farmers in the community and hires up to 60 workers during harvest.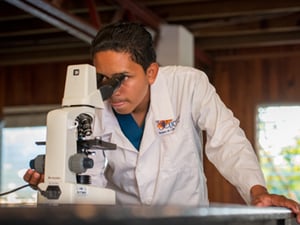 We also visit Tegucigalpa, the capital of Honduras, to see how we're keeping kids out of gangs through World Vision's "Youth Ready" program. We meet Rony Nuñez who was in a gang and lost many of his friends due to gang violence. As World Vision Honduras, National Director Jorge Galeano explains, World Vision has access to areas where most other organizations are not allowed. This is because we're a faith-based organization and can work through 2,000 local churches to penetrate into the areas with gangs. We're successful in turning around the lives of people like Rony, who is now studying to be a clinical lab technician (above).
These approaches are successful because they're increasing hope and empowering communities based on having the knowledge, skills, and training that people didn't have before and, in the rural areas, because they now have access to clean water for health and livelihoods.
Now the COVID-19 pandemic is upon Honduras and the rest of Latin America. While emigration has currently slowed because of shut-downs, poverty has increased at an alarming rate with an estimated 45 million people falling into poverty this year. This will eventually lead to an increase in emigration unless we are able to respond effectively and help Hondurans. The economic downturn of countries outside the region, including the U.S., will also have a direct impact on poverty in Honduras since 20% of Honduras' GDP is from remittances sent by people living abroad.
These economic impacts in Latin America are already having a devastating effect, particularly on people who survive based on jobs in an informal economy. With no jobs, there is no money to buy food, and there are already millions of households where people are going hungry. Based on this, World Vision has issued an urgent appeal to provide food, shelter, health, and protection for 10 million vulnerable children and their families. Our strength in having separate urban and rural approaches is more important than ever to properly respond to the impacts of the pandemic.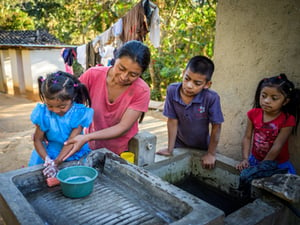 In the area of water, sanitation, and hygiene, World Vision has already distributed more than 500,000 hand washing supplies, 200,000 hygiene kits, 120,000 disinfection kits for health centers, and provided more than 1,000 community-level hand-washing supplies. Our work to provide clean and safe water has restarted and, as part of our Hope for Honduras effort, we'll reach one out of every 3 people still needing water access in the entire country of Honduras.
We're determined to continue to provide Hope for Honduras and other people living in Latin America.We urge you to watch our new video. It will give you hope.