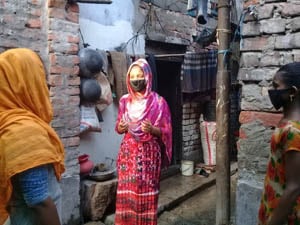 "When our first three coronavirus positive cases were detected and declared by our Bangladesh government, our program community people in the slums became very afraid of COVID-19. The first time they heard of the coronavirus, [they had] no details," says Mili, who implements World Vision's Child Protection project in the slums of southern Bangladesh. "Their apprehension gradually reduced when World Vision started working in partnership with the parents and a child forum."
Prior to COVID-19, the Child Protection project gathered 200 children (ages 12-17) in the slums to form child forums where the children could learn from each other and grow together. The children elected 15 leaders to oversee the forums, including Ayesha (15) as their chairperson for the Prottasha ("Hope") Child Forum. Even now, Ayesha regularly connects with group members and conducts monthly meetings to assess their progress and plans for the coming months.
As part of the community impact of the Child Forums, Ayesha and her peers surveyed 1,990 families in their communities to learn about their situations and to share possible solutions to their problems. As a peer-educator, Ayesha conducted Life-Skills Based Education sessions for 40 adolescent girls for two months. She taught them components of key life-skills including empathy, critical thinking, decision-making, effective communication and interpersonal relationships. She also covered child protection issues about violence against children, like child labor, early marriage and trafficking. With direct support from the Urban Neighborhood Development Committee – a parents' association – Ayesha and her peers prevented three early marriages in their communities. They also organized a budget consultation meeting with the Khulna City mayor, resulting in the mayor providing a budget for children's development initiatives.
With the coronavirus, Ayesha and her peers are helping World Vision organize learning sessions and competitions on behavioral and personal hygiene protocols for the community children. When COVID-19 started spreading in the Khulna City are-as, Ayesha and her peers went door to door in their slum and disseminated World Vision's hygiene education leaflets. They also worked with the local government and other local NGOs to ensure their community education efforts did not overlap. Since the child forums were already established, they became a perfect tool to help educate children.
"While we served the community, we taught the community people that the coronavirus doesn't move by itself, but people move it, so we need to stop it moving," says Ayesha. To keep hands coronavirus-free, Ayesha and her peers demonstrated proper hand-washing techniques and encouraged families to use soap or sanitizer.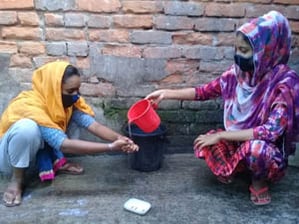 Ayesha and her peers also taught the community to follow basic hygiene courtesy by covering one's mouth with a tissue when sneezing. To avoid contamination, Ayesha educated community mothers to use surgical masks, maintain social distancing, stay at home and avoid unnecessary visits outside the home.
"The slum we dwell in is densely populated and our rooms are closely attached. We have 31 narrow walkways between our rooms on either side, so maintaining social distance is hard, but not impossible," says Bilkis Begum, whose daughter Sadia is a child forum member. "We spend days in our one-room homes. Ayesha and her friends taught us to wash and keep our hands clean. She told us not to touch our mouth with our hands. She also taught us to sneeze into our elbows."
Ayesha and her peers are deeply connected with these families. Ayesha is one of a hundred hidden heroes preventing the spread of COVID-19 in the community and protecting the lives of parents and their children.