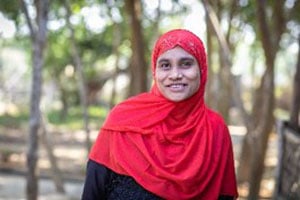 Hasina didn't have a choice but to flee. Four years ago, Hasina, 21, a Rohingya Muslim, fled across the border into Bangladesh to escape persecution and violence. Rohingya Muslims represent the largest percentage of Muslims in Myanmar with the majority living in the Rakhine state. They have their own language and culture and are descendants of Arab traders and other groups who have been in the region for generations.
But the Myanmar government, a predominantly Buddhist country, denies the Rohingya citizenship, excluding them from the 2014 census. The government refuses to recognize them as a people, stating they are illegal immigrants from Bangladesh.
In August 2017, a deadly crackdown by the Myanmar army on Rohingya Muslims sent hundreds of thousands of civilians, like Hasina, fleeing across the border into Bangladesh. The Rohingya people are one of the most discriminated against populations in the world.
Hasina is a single mother of two daughters as her husband died a few years ago. She and her daughters now live in a makeshift mud-floored room made of bamboo and plastic tarpaulin. They are dependent on food aid from the Bangladesh government, the United Nations High Commissioner for Refugees, and other aid agencies. "The food we get here is not enough for some families, but we have no other choice. People can't go out and share with any-one as everyone is in the same situation in the camp," says Hasina. World Vision has been one of the pioneering agencies, offering refugee crisis response interventions to help improve the lives of the Rohingya people.
Hasina comes regularly to the World Vision's Peace Center, funded by the Every Last One campaign. Here she learns about child marriage, preventing gender-based violence, and the coronavirus. "I was 12 years old when I got married back in my home in Myanmar," says Hasina. Hasina didn't have a choice about marriage as she was too young to be a bride and understand how to manage a family. In the past, her environment and culture commonly promoted early marriage for young girls.
"After coming here, I got acquainted with women and learn many things from them that I didn't know before," says Hasina. After learning about child marriage, Hasina doesn't want to make the same mistake with her daughters that her parents made with her. "I will get my daughter married after she turns 18 years old, otherwise, she might not understand her responsibilities at the in-law's house," says Hasina, "I learned about child marriage from World Vision. I would get my daughter married at 12 if I didn't know about it," she says.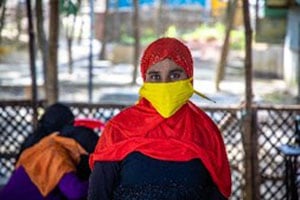 Hasina has also learned to sew masks along with the other women in the center. "We learned that to prevent coronavirus we need to wear a mask, wash our hands before eating, before entering the home we should also wash our hands. We should cover our mouth while coughing and maintain at least three feet distance from others," says Hasina. She hopes these masks will help her community stay safe from coronavirus. "The masks we are making here will be given to the Rohingya people. If they survive the disease we are very happy," says Hasina. Now they sew masks in the center and are paid $1.25 for each day. Her hard-earned money is a big support for her family. Hasina's new life is better than before. It is not the life she chose but a life where she's learning new things, is able to give back to her community, and counsel her girls on child marriage. She is working hard at her job and contributing to protect the lives of people in the camps.