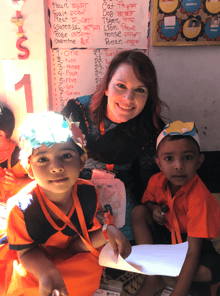 "And after you have suffered a little while, the God of all grace, who has called you to his eternal glory in Christ, will himself restore, confirm, strengthen, and establish you." 1 Peter 5:10
In November 2018 I had the opportunity to see World Vision's Child Protection work in Bangladesh & India. For the past couple of months, I've been leaning heavily into this verse. How do I even begin to share about a trip, that was amazing, intense, beautiful, heartbreaking, joyful, made me angry at times and hopeful in others, and one that pretty much put me through a wringer of emotions? I jumped off the deep end with this one!
I've been an advocate for World Vision's Child Protection work for a number of years. I've heard the stories from the field, I've asked questions to better my own understanding of the complexities of this work, and I've seen old projects end and new ones begin as World Vision seeks to fight the injustices countless children around the world face on a daily basis. Going on this trip I looked forward to finally being able to see this work for the first time yet also knew that it was a trip that would stretch me in ways I never imagined. Visiting Bangladesh and India brought me face to face with the darkness children in these countries face - child labor and sex trafficking.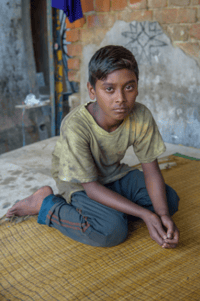 Our first day began with a visit to one of World Vision's Child Friendly Learning Resource Center's (CFLRC) in Jashore, a district in the southwestern region of Bangladesh. We saw fresh little faces of preschoolers with joy in their hearts and precious songs, dances, and pictures to share. And then…we met Choad (pronounced "Soad") and two of his friends. As Choad (pictured left) shared his story what I saw in his eyes was sadness and a lack of hope. At one point I had to turn away and say to my colleague, "I'm about to lose it!" and I wiped away my tears. Choad is 12 years old. He is just one of the 1.7 million children in Bangladesh who are involved in child labor. For the past year he worked 10 hours a day, 6 days a week on a diesel engine 2-3 times his size without gloves, safety goggles, or the right tools.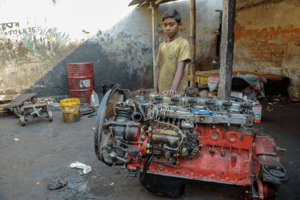 A job that can be painful when a screwdriver slips from his grip and cuts the palms of his hand and one that pays only $6 dollars a week. Why? Because his father abandoned his family. With little income and barely enough for food, expenses, and his school fees, Choad was forced to quit school to provide an additional source of income for his mother.
We transitioned on and visited Choad's place of employment. We met the owner of the machine shop, asked him questions, and trusted that he wanted to support Choad's return to school. Me, I was a bit more cautious and thought to myself, "How do I know you really mean this?" Especially when Choad's employment meant less expense for him as a business owner. My heart was broken and angry and I was overwhelmed by my surroundings…poverty I had never seen or experienced before.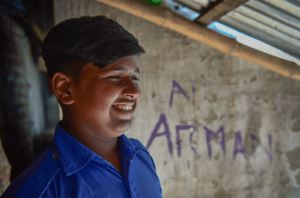 But…God showed up. He knew I needed some sort of sign of hope amid my struggle. We visited another CFLRC in Jashore, and this time met a group of boys ranging in age from 8 to 15 years, one of them a boy named Arman (pictured right). Arman is 15 years old and a year ago he was working in a welding shop. He was angry and quick tempered. But he heard about an opportunity. An opportunity that would allow him a future. A future in which he could be successful and one in which he could help his aging parents. This young man stands up tall, has a sparkle in his eye, a smile on his face, and a confidence that shines through.
As for Choad…World Vision is already working with him. He is being tutored by staff and community volunteers to catch up on the education he's missed for the past year and they hope to enroll him in school in 2019.
Arman and Choad, they are two boys that World Vision is empowering through the Jiboner Jannya, "For a Better Life" project. We often hear about the girls, but I wanted to remind you of the boys. We are empowering them to speak up for themselves, to be educated, to become leaders, and to become strong men that care for their families and will not become the shop owners that hired them as young boys. They are the ones that can make a change in their communities.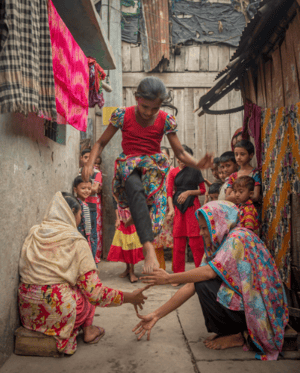 And the deep end I jumped into? From that jump I have a new-found responsibility to share how World Vision is making an impact in children's lives because of our Child Protection work. I'm still asking questions and still processing what we saw in Bangladesh. I now have a face, a name, and a story to represent each of the four pillars that are part of our Child Protection work – empowering youth, strengthening families, mobilizing faith leaders, and influencing governments. Teenagers like Choad, Arman, and Sadia who are receiving life skills training to build their self-esteem, to problem solve, to make decisions, to stand up for themselves, and to dream. Mothers and daughters like Beauty and Chadni who used to argue daily due to the stress in their lives now have a loving relationship and a brighter hope for the future. Faith leaders and community leaders who care for these children and would give their own resources to see them succeed.
There is still much to do in Bangladesh. 1.7 million is a huge number. A number that includes children that continue to work in factories, fish markets, in machine shops, and as domestic laborers. This number is not lost on God. In Matthew 9, He say to his disciples, "The harvest is plentiful, but the workers are few." Partner with us and jump into the deep end to bring a better life to the children of Bangladesh.