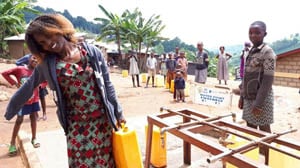 Mugombwa, a refugee camp in southern Rwanda, currently hosts over 10,400 Congolese refugees. Gabriella, a 7-year-old girl in Mugombwa, smiles every time she washes her hands after using the toilet because she believes good handwashing is an effective way to prevent the spread of diseases, including COVID-19, Ebola, intestinal worms and diarrhea. The camp's water supply system was constructed last year and has the capacity to serve the entire camp, plus the neighboring host communities.
"I am happy for World Vision and UNHCR [United Nations High Commissioner for Refugees], for they ensure we have good handwashing facilities with soap and clean water so that we can wash our hands every time it is necessary," says Gabriella. "I wash my hands every [time] after toilet and before eating to prevent diseases. We have clean water near our homes which we use for bathing and [to] go to school clean without being late," Gabriella adds.
Gabriella's mother, Kayitesi Devine, is a 27-year-old single mother of two. She lost one of her hands during the Democratic Republic of Congo insurgencies before her family fled to Rwanda in 2014. She thanks World Vision for the inclusive WASH program, which caters to people with disabilities by providing enough water points and sanitation facilities as well as easy access.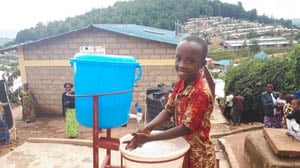 Before the inclusive program, Kayitesi says, "I could not fetch enough water using one hand. My daughter had the burden of fetching all the water before going to school. Sometimes I would skip washing her uniforms and she never felt comfortable going to school with dirty clothes or without bathing," Kayitesi adds.
''Besides the refugee pain of losing belongings, I also lost my arm to rebels with a panga [machete] in Congo. In our first years in the camp, I had difficulties nursing my painful wound while caring for two-year-old Gabriella. When Gabriella turned five years, she started helping me with fetching water. I could not manage struggling for water at the few crowded water points. Gabriella was always there to wait at long queues at the water points, and sometimes she would miss her kindergarten classes," Kayitesi says painfully.
Kayitesi is very grateful for the closer water points, especially because of her disability. "Now we access enough water all the time near our homes, and I am able to fetch enough water by myself for home use," says Kayitesi. "My child now concentrates at school and she has enough time to play. I am proud that my child is safe and is performing well at school, being among the best ten in grade two," Kayitesi adds.
Gabriella and Kayitesi are convinced good hygiene, regular handwashing and social distancing will help them survive the coronavirus. Pacifique, WASH Project Manager for the camp, credits the positive behavior change to the good partnership between World Vision Rwanda, UNHCR, the Ministry in Charge of Emergency Management and the refugee community. Concerning COVID-19, Pacifique and other World Vision staff will be busy continuing to teach these preventative measures to help prevent the spread of the virus.