Essential human rights, liberty, and dignity are being torn from millions of people today. They're sexually exploited, forced into labor, domestic servitude, and thrown into begging and stealing in an illicit multi-billion-dollar enterprise known as human trafficking.
Every year on July 30, World Vision observes World Day Against Trafficking in Persons by highlighting the importance of protecting vulnerable children and adults from all forms of exploitation and violence.
Nearly 25 million people around the world are trapped by modern-day slavery and trafficking, according to the International Labor Organization. An estimated 5.5 million trafficking victims are children.
Coerced to work in sometimes horrific conditions, trafficking victims have no rights or recourse. Women and girls account for 71 percent of people affected, and nearly 20 percent of trafficking victims are sexually exploited, sometimes forced into marriage or prostitution.
Latika* is a 35-year old woman, mother, and sex worker. Her 14-year-old daughter, Riya*, is fighting hard against becoming another girl on the street for men to take advantage of. Here is their story, told by World Vision's Neola D'souza. (*Names have been changed to protect identity.)
West Bengal, India | World Vision project to combat child trafficking for sexual exploitation
Walking through the narrow alleys and lanes in a red-light area can be quite unnerving. It took a while to get to the place as the cab driver checked not once but three times with me if I had the correct address. He later tells me in Bengali, "Madam, this is a red-light area; please be careful." I politely explained that I was aware of that and that my NGO works here. I wondered what was going through his head, as he nervously looked around and then at me, puzzled by my response. I was only visiting the area, but immediately I could see the judgment in his eyes. What many people fail to realize is that although this place is a popular red-light area, it is also home to several children who are stigmatized by virtue of either being born here or moving here with their mothers.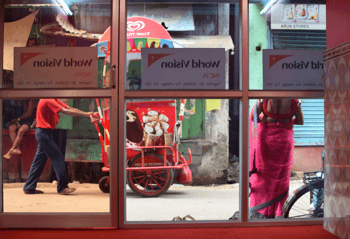 The daylight street scene in Kolkata, India
In the morning, it still feels like a bustling community, with children running off to school and locals running errands. One can spot a few women standing in the sun waiting for customers, but as evening approaches, the atmosphere rapidly changes.
The streets that were filled with vegetable or fruit vendors is now a mix of drunks walking around while several women line up with heavy make-up and bright lipstick waiting for customers. The narrow and dark alleys that house several multi-storied brothels are adorned with dim, inviting lights. Music and the smell of alcohol and cigarettes infuse the air.
Amidst this unsettling atmosphere, hiding in the shadows or wandering open spaces, one can occasionally spot children, some quite young, whiling away their time, until they can go back to their homes. Most mothers leave their children with an older sex worker, who would look after them in exchange for money. Others don't have this luxury.
Change is happening
"Our objective in red-light areas is pretty clear. We would like to stop second generation trafficking."
- Joseph Wesley, World Vision India
Things have changed since November 2017 in a small part of this big community. "Our objective in red-light areas is pretty clear. We would like to stop second generation trafficking," says Joseph Wesley, Head of the Anti-Child Trafficking Project for World Vision India. He continues, "By this I mean, safeguarding children of women involved in commercial sex work, from being inescapably drawn in to sexual exploitation. Day in and day out children see their mothers soliciting customers on the street, and then later entertaining them in their only living room. Children have seen enough of what adults do and there is a risk that these children might grow up accepting it as a way of life."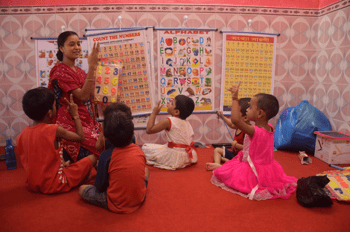 Young children, ages 3 to 5, attend a morning session inside the World Vision Child-Friendly Learning and Recreation Center (CFLRC)
To tackle this, World Vision opened a total of three centers in the community itself for children whose mothers are commercial sex workers. The evening center has grown from 25 children to 73 children in just a few months. In March, another center was opened in the morning for young children (aged 2 to 5 years) who have not started school yet.
At the evening center, I was greeted with a warm "Namaste" by more than 50 kids in a medium-sized room. The room was packed to the brim, and still there were children coming in. Engrossed in their books, some were preparing for their examinations, while others completed their homework. The teacher, who is a local from the community, patiently writes A, B, C, D.... in a few children's notebooks.
I finally spot 14-year-old Riya, who is sitting in a corner with her books open. She smiles at me and then continues studying. I met Riya and her mother that afternoon, to listen to their story of how circumstances had led them to this center and how Riya was now in school.
"A few months ago, I thought it was my fate to accept my mother's profession, and that I, too, would be forced to get into the same line. But today, things are different. I feel like I can do anything now because I'm finally going to school."
- Riya
Riya's mother, Latika, silently looks on as she tells her about the exam that she just took and what she has to study the next day. For Latika, listening to her daughter speak about school is like music to her ears.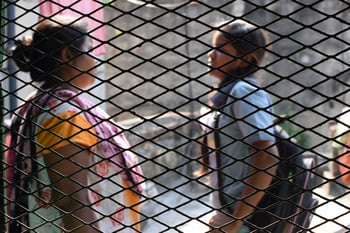 Riya and her mother
Latika belonged to a poor family of agricultural laborers from a remote district in West Bengal. She never went to school and was married twice, the first at the age of 13. Both her marriages were unhappy. She was beaten daily by her husband and in-laws for no reason at all. Recalling her second husband, Latika tells me, "People would wash their face with water, but he would wash his face with alcohol," she says.
In order to escape her husband's brutality, Latika came to Kolkata, where her older sister worked as a sex worker in a red-light area. Left with no options, Latika also took up sex work as she felt this was the only way in which she could support her two young children.
In a red-light area, teenage girls like Riya find it difficult to stay with their mothers, as most girls of that age are sent to hostels or stay with other family members. The risk for a girl child increases, as she is very vulnerable to abuse from pimps, customers and other men in the area. Young girls are also coerced by other women to join the business to help their mothers.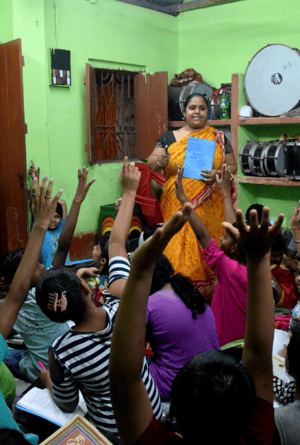 Teacher, Tumpa, leads a lively discussion with the older children at an evening session at the CFLRC
Another mother (whose son studied in the center) told Latika about the Child Friendly Learning and Recreation Centre (CFLRC) run by World Vision in their area. After speaking to the teacher at the center, and understanding the risk, Riya was immediately enrolled in the program. At first Riya was very quiet and took some time to settle in. But after a few days, she blended in with the other children at the center.
Riya's desire to go to school didn't escape the eyes of her teacher (Tumpa), who informed the World Vision staff about her particular case. Together they helped Riya secure admission in a Government school (which is free of cost). She has now started school and is studying in the sixth grade.
To ensure that Riya doesn't fall back in school, she attends classes at the CFLRC every day. "I really like the center a lot. When all of us study together it feels nice. The teacher is also very good. She makes us laugh and she explains things to us. She also helps me out with all my difficulties. I go at 5pm and come back at 8pm. I also like it when people come and visit us and when they talk to us in English. We get to learn so much from them," says Riya enthusiastically.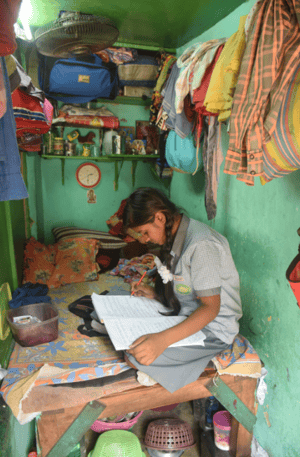 Riya studying at home
"Today my worries are very different as compared to before," she continues. "Today I was very worried when answering my history paper. I'm not sure if I'll pass or fail, but I'm happy that I'm finally giving exams. I have to work hard, because I have to catch up on a lot but I don't mind," says Riya with a smile.
"At the age of seven when I should've gone to school, I missed out. But after giving these exams, I have proved to myself and others that even though I was kept away from books when I was young, I will still succeed because I now have the opportunity," she says sincerely.
When we asked her if she had any fears living in the community or if she faced any challenges, she shed light on safety in the area. She tells us, "Men out here are very bad. They stare and pass comments. I give them a sound hearing at times. Most boys now think twice before saying anything to me. I went for a karate class long time back and just memorized a few moves. That gives me the confidence to fight back. I would like to become a police officer someday," says, Riya with hope in her eyes.
Dreams of peace and a future
"I'm happy that I have gotten this opportunity and won't let this place define me. But I'll be happier when more girls are helped."
-Riya
After living and working in the brothel for almost 11 years, Latika dreams of a time when she no longer has to do this work. She wants to save enough money to own a small plot of land, start a shop or do some farming. "I don't like this place. Every day is difficult for me. I don't know when that peace will come, when I can just live happily with my children," she says.
But more than anything else, Latika is happy now that her daughter can stay with her and that she is going to school. "I always wanted her to study and I know how much she loves to study," says Latika tearfully. She continues, "Thanks to the teacher and Arnab sir (the World Vision staff), my daughter also gets extra help through the center. I like the center and it is needed because all our children can study together. They are encouraged to think ahead. They also give good food to the children at the end of class. My worries are less and I feel happy that my child is learning here."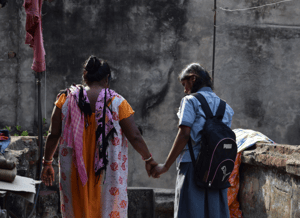 Walking together towards a hopeful future
Riya sums it up by telling me how grateful she is to World Vision and those who have helped her reach where she is today. She feels a need to study very hard and go to college. "I just need your blessings to do more in life," she says graciously. However, she knows that there are many girls like her who need guidance and help.
"I'm happy that I have gotten this opportunity and won't let this place define me. But I'll be happier when more girls are helped," she says with a smile.