Every year on July 30, World Vision observes World Day Against Trafficking in Persons by highlighting the importance of protecting vulnerable children and adults from all forms of exploitation and violence.
Nearly 25 million people worldwide are trapped by trafficking, including 5.5 million children. In Guatemala, World Vision is working with parents, pastors, teachers, children, and youth to make trafficking history by ending violence and restoring hope.
A 2014 study by the United Nations refugee agency estimates that nearly 25 percent of minors who migrated from Guatemala on their own had suffered violence from their caregivers. In addition, Guatemala has the highest rate of murdered women in the world, and an estimated 45 percent of women of childbearing age say they have experienced domestic violence.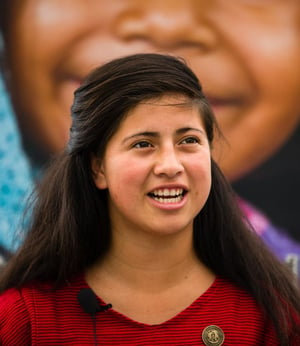 Olga Obac, 14, a World Vision-trained youth leader from Guatemala, appeared at a global forum on trafficking and migration in Geneva, Switzerland, in 2017. She says "extreme poverty, lack of jobs, and lack of services" lead to young people risking migration and becoming vulnerable to traffickers. (©2017 World Vision/photo by Michael Moosberger)
The numbers are staggering, and it's personal.
Eleven-year-old Cristian from Guatemala decided to travel to the United States on his own "because his father and then his mother migrated, and he was alone with his grandparents and very sad," says 14-year-old Olga Obac, a World Vision-trained youth leader from Cristian's home community.
What came next was a story too often told. "Cristian died on the way to the United States," Olga told attendees of a global forum on migration and trafficking in Geneva, Switzerland. His death wasn't explained, and his body was not returned to his grandparents, she says.
"Migration affects us because we are abandoned by adults who are forced to migrate. It affects us because we run into danger if we try and follow them. To migrate, we must cross deserts where we can die. There are also traffickers who pick up the boys and girls and sell or rape them," Olga says.
Olga called on world leaders and concerned adults to join World Vision's campaign to end violence against children. "Listen to our needs and put our childhood and adolescence first," she says.
Ending a culture of violence that leads to trafficking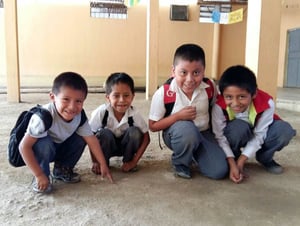 World Vision's faith-based programs in Guatemala teach young children, adolescents, and adults to work together to eliminate violence. The program is designed to empower children and young people and change the behavior of parents and teachers so that they set a good example for their children to follow. (©2017 World Vision/photo by Jorge Felipe)
Extreme poverty, crime, lack of jobs, and lack of services frequently lead to migration, Olga says. But at the root of the problems of migration and trafficking is violence. Although violence related to gangs and cartels is a serious issue in Central America, the primary form of violence in Guatemala is within the family.
World Vision is working to interrupt the cycle of violence within Guatemalan families and communities by:
Empowering communities to create safe environments for children to live, learn, work, and play
Changing community norms and perceptions — including attitudes and behaviors toward women and girls
Intervening on behalf of children, adolescents, and families at highest risk of becoming victims or perpetrators of violence
Responding to the needs of those affected by violence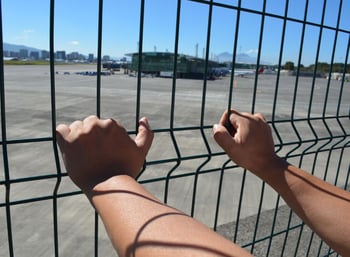 Awaiting deportation to Guatemala from Mexico, 17-year-old Daniel (name changed to protect privacy) saw his dream of a better life dashed when he was picked up in Mexico en route to the United States. Young people on the migrant route are vulnerable to traffickers who promise them safe passage and employment opportunities. (©2014 World Vision/photo by Cecilio Martinez)
In partnering with communities, World Vision engages children in education and recreation and empowers them to protect their rights. We support and strengthen local governments and community violence prevention committees with training and resources so they can intervene to prevent violence and migration. We mobilize churches to take a leadership role in community life on behalf of children.
Like Olga, we are haunted by the stories of children like Cristian who have been lost to violence and trafficking.
As the largest Christian humanitarian organization focused on children, World Vision believes every girl and boy are precious gifts from God, and every last one should be protected. With the help of generous donors like you, we will continue to foster healthy families and communities where children can thrive and enjoy fullness of life.