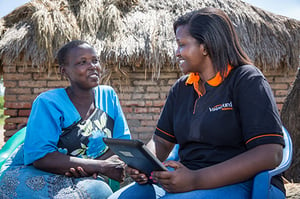 For Micro, Small and Medium-sized Enterprises (MSME) Day 2019, Chris Rowlands, VisionFund International's Director of Small and Growing Business (SGB) shares how the right financial support and business coaching helps unlock growth opportunities for entrepreneurs and creates critically important jobs for low-income women, men and youth.
A World Bank study estimates that there are between 365-445 million MSMEs in emerging markets[1]. MSMEs are considered to be vital engines of growth in these countries, responsible for employing 60-70% of the labour market and contributing 50% of GDP[2]. Thus, MSME Day was established in June 2017 to recognise the role of micro, small and medium enterprises (MSMEs) in reducing poverty and contributing to the United Nations Sustainable Development Goals (SDGs).
MSME's play a critical role in the fabric of society, most clearly by generating employment opportunities for women, men and youth. VisionFund's experience to date shows that in most cases, employment opportunities are being created for unskilled people in low-income communities, aligning strongly with VisionFund's mandate to empower livelihoods and transform communities. MSME's also produce and distribute much needed products and services within their economic and social contexts, with formalised businesses also providing important tax revenues to governments to finance broader social and economic programs. Collectively, this wider economic multiplier effect has been estimated to result in $13 of benefit for every $1 invested in supporting MSMEs[3].

Source: Asim Khwaja, Center for International Development at Harvard University
Whilst there is wide agreement about the important role MSMEs play in economic and social development, MSMEs often face major hurdles in accessing credit finance and the right business advice, to fuel the growth of their businesses and the employment they create. VisionFund identified this need to reach entrepreneurs who have outgrown microfinance but are not yet formalized or viewed as 'bankable' by the commercial banking markets. This 'missing middle' segment of higher growth businesses is not only an underutilized engine of growth for emerging markets, but also acts as an important way to create jobs and livelihoods in marginalized and low-income communities.
These small and growing businesses (SGBs - a sub-set of MSMEs) are high growth potential and job creating businesses, yet without access to affordable credit, their growth is often constrained. In 2016, VisionFund Sri Lanka began testing the financing of loans between USD $3,500-$25,000, in order to reach the most missing of the 'missing middle.' VisionFund has since expanded this product to Myanmar, Ghana and Mexico and has added a business advisory component within the product through one-to-one business coaching for business owners.
Since 2016, and with the support of World Vision Australia and World Vision Canada, VisionFund International has disbursed almost 1,000 SGB loans to a combined value of over USD $3million in Sri Lanka, Ghana, Mexico and Myanmar. Our experience shows that when the most missing of the missing middle are supported, their entrepreneurial talent and vision are able to flourish, and this results in wider opportunities for low-income families as they step into the jobs that are created. Take Thin Thin Hlaing for example.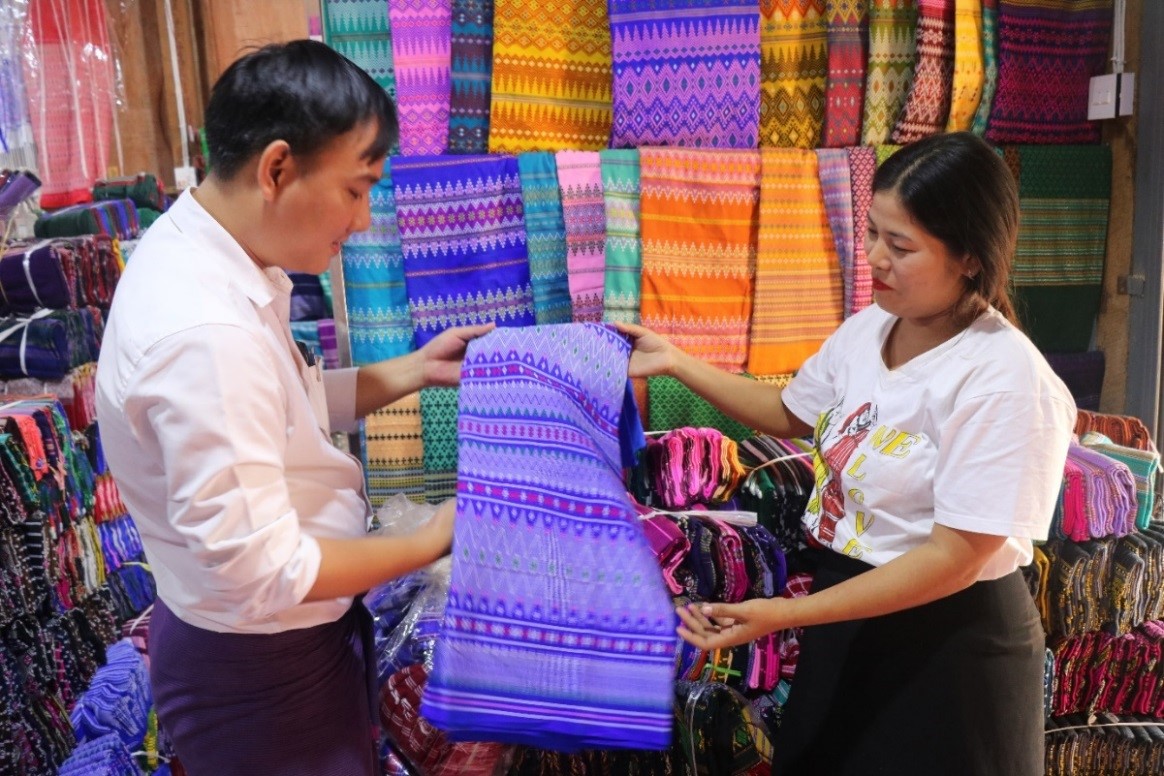 Thin Thin Hlaing (pictured above) is an owner of a number of shops that specialize in traditional 'Karen' dresses (unique to a region in Myanmar) and an entrepreneur who is leading the traditional weaving design industry in her native region, Hpa-An, Myanmar. She has been in this business for seven years and originally started in a small cottage, selling the clothes directly from her home. She now owns four retail outlets that provide employment for 10 full time staff, and she has big visions for the future.
"It has been a dream to own a business since I was a child. When I was in school, my teacher used to ask all the children what they wanted to do when they were older. Whilst others would say engineer or doctor, my answer was that I want to be a business tycoon," she says.
Thin Thin Hlaing has been a client of VisionFund Myanmar for almost 12 months, taking an SGB loan to purchase supplies for her retail businesses which allow her to meet larger and more consistent orders. Moreover, she also utilizes VisionFund Myanmar's one-to-one business coaching which aims to identify ways for her to improve her business. Thin Thin Hlaing has been using the business coaching to strengthen her customer service and client relationship practices, and financial record keeping.
Next year, Thin Thin Hlaing plans to utilize a larger SGB loan to establish her own weaving business that will employ many more local women, operating at least four weaving machines. She wants to produce all of her own designs and give employment opportunities to vulnerable local women, allowing them to work locally rather than go looking for work in Thailand and elsewhere, where they can end up being exploited, and families being separated.
She feels a sense of responsibility: "If I can give opportunities to others in my community, then that is what I need to do."
Likewise, VisionFund will continue to grow its backing of SGBs. Job creation for low-income people through SGB support is a clear demonstration of VisionFund's intentional alignment with World Vision's (our parent organisation) strategic intent to build livelihoods and transform communities, particularly those who are more vulnerable and marginalized. With support from the Australian Department of Foreign Affairs and Trade (DFAT), VisionFund International will provide loans and business coaching to over 2,000 businesses in Myanmar and Ghana alone in the coming two years and is exploring options to expand into other countries.
[1] http://www.whysgbs.org/sgbs-and-development
[2] http://www.whysgbs.org/sgbs-and-development