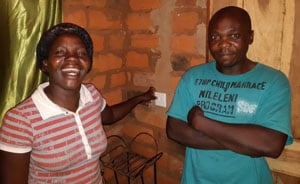 Joyce & Pontino switching on the lights at home
No sooner had Joyce (36) and Pontino (44) flicked on the lights, than brightness filled their house. Their faces beamed with delight. They could not hide their joy. They giggled. There seems to be nothing special about switching on a light bulb unless you are a small scale farmer living in a rural village in eastern Zambia and your house has just been connected to the national grid.
The transformation in the room, from dark to light, is analogous to the transformation in Joyce and Pontino's household: from scarcity to abundance. Joyce and Pontino's income increased from $50 to $3,000 per year within 24 months. They moved from a grass-thatched house to a brick and metal-roofed house. Their house is now connected to power and food is no longer a problem. "Now, we can eat whatever we want," says Pontino.
World Vision's THRIVE Program (Transforming Household Resilience in Vulnerable Environments) is the switch that made the change. "The THRIVE training we attended in 2017 changed our lives," says Joyce. Her husband, Pontino, adds, "The lesson on Empowered Worldview changed our mindset." The couple explains that during the Empowered Worldview training, they were told to close their eyes and imagine a better future. "All these things you see today is what I saw when I closed my eyes and pictured a better life," says Pontino.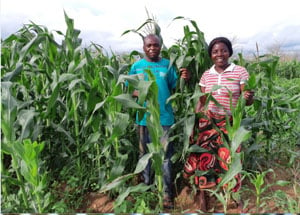 Pontino & Joyce in their corn field
"THRIVE equipped us with the knowledge and skills that helped us to increase our yield," reveals Pontino. The couple learned and practiced minimal tillage, mulching, making compost manure, and planting the right seeds at the right time. As a result, they had a bumper crop two years ago, even though the area experienced a drought. They made $1,000 from the corn harvest and used the money to build and connect power to their house. They also purchased agriculture inputs.
This is a sharp contrast to the scenario prior to their THRIVE training. On average, the couple's income was only $50 a year due to poor farming methods, even during seasons that had ample rain. To top it off, Pontino always wasted the money. In her humorous way, Joy jokingly teased, "He used to think that $50 was a million and he would abandon us only to return a week later after spending the money…." Joyce made a poignant point, "But, now we are one." The couple explained that the training helped them do everything together, including planning and spending. They also include their five children in decision making.
Based on crop yield estimates, Joyce and Pontino's income will range from $3,000-$4,000 for this farming season. The couple has also diversified their income. In addition to rearing chickens and goats, they are building a grocery shop and a hair salon.
Joyce and Pontino exemplify the goal of THRIVE in Zambia. The pro-ject seeks to better the livelihoods of smallholder farmers by 2021, through interventions that help them to diversify and increase their income while making them resilient to climate, market, and physical emergencies.