"Eleven-year-old girl Amena is a gifted child. She draws good portraits. She learns to dance so quickly. She sings folksongs so well," says Moitry Snal, Child Protection project staff of World Vision in southern Bangladesh. Amena lives with her adoptive family in a poor area of Khulna. Parul Begum, 48, brought Amena into her home where she lives with her two adoptive brothers and father. Parul first saw Amena walking alone on the street in the slum and felt that she needed to do something, so she took her home and became her adoptive parent.
"Amena came to our notice while we surveyed working children in the slum," says Moitry, "We found Amena was working in a local restaurant." As day laborers, Parul and her husband were not earning enough to raise their family. Their five grown girls were married off. Parul could not afford education to her two sons Parvez, 13, and Rana, 12. So, both the boys were attending a free madrasah (Islamic school) and receiving Islamic religious education only.
Amena's memory blurs about her mother's death but she remembers her father died in a hospital. When Amena lost her father, the stepmother refused to keep her. Amena ended up with one of her relatives in a slum in Dhaka city. "My relatives never allowed me to go to school. They asked me to work," says Amena. She was not allowed to play with other children and was punished if she tried. Alone one morning, Amena walked out of her relative's home in Dhaka and made it to the central railway station. Without having a destination, she took the train from Dhaka and traveled overnight. Nobody asked about her anything. The next morning, she got off at the Khulna city station and walked to the streets of a slum where Parul met her.
Due to their extreme poverty, Parul required Amena to work and earn for their family, too. Through World Vision's work in Khulna, Parul decided to attend their awareness session on 'Child Labor.' Because of this training, she agreed to withdraw Amena from work and send her to school again. "Then we provided Amena catch-up education and prepared her for schooling," says Moitry. "I liked World Vision's center very much," adds Amena. "I mostly enjoyed drawing, sing-ing, dancing and playing with my friends." In addition to reading, writing and math skills, they were taught good manners and hygiene practices in the center. Once her catch-up education was complete, Amena enrolled in a public primary school. World Vision provided her grants, a uniform, a bag and supplies for school.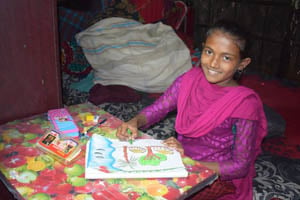 Parul received income-generating training and pantry items from World Vision's Child Protection project and started her new 'grocery' store. "In addition to grocery items, I sell tea and homemade food and make 200 takas (~$2.50) daily from my store now," says Parul. "With my in-come, I afford education for my two sons and Amena, too. Thank you to World Vision for helping me to fight poverty."
Amena wants to forget all the bad memories of her relatives in Dhaka. She never feels that Parul is not her natural mother and now has a good family environment with her new family. "I feel safe in this family. No-body beats me or scolds me here. Everyone loves me," says Amena. She likes to go to school regularly and play with her classmates. When grown, Amena wants to become a policewoman so that other young children aren't mistreated and can follow their dreams.