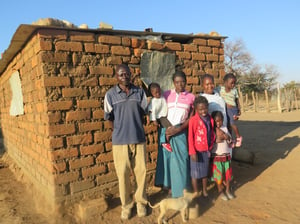 We had no sooner pulled into her village compound, when Kathryn rushed out of the vehicle to embrace the four little girls she now calls her sisters. Her aunt dropped a bundle of small sweeping sticks and in her haste to welcome us, she startled the chickens and ducks that were picking up crumbs of food in the compound.
Returning 'home', Kathryn's face beamed with joy. She is the proud recipient of an education scholarship from World Vision and now lives in a boarding facility run by World Vision's partner organization, City of Joy.
Kathryn was 'adopted' again, by her aunt & uncle. Accompanied by Kathryn's matron from City of Joy, we drove to her village to meet them, but we were disappointed to learn that her uncle was not at home. However, her aunt didn't want us to miss the chance to see him. Leading me to a rundown structure within the compound, she point-ed to one of the bricks on the wall. After squinting my eyes, I saw a ten-digit phone number etched on the red brick. I dialed the number and on the other side of the line, Kathryn's uncle told me that he was on his way to meet us.
During our wait for the uncle, I met Kathryn's childhood friend, Maureen. Kathryn and Maureen's lives couldn't be more different. With her 6-month-old baby strapped to her back and a sickle in hand, Maureen was on her way to cut grass for roofing. Although similar in age with Kathryn, Maureen is a single mother with four children. She said, "If she wasn't in school, Kathryn could have been just like me." I found her words poignant.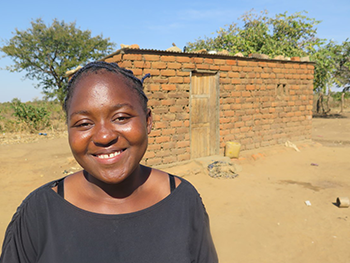 Kathryn's smile radiates her new joy
Maureen shared a story of Kathryn's hardship from when she lived with a different uncle in the city. He pledged to pay for her education, which was a dream come true for Kathryn. But a few months after moving into his house, a man attempted to rape her. Neighbors heard her cries for help and came to her rescue. The man was arrested and Kathryn left the city.
This is how she came to live with her poor, but generous uncle in the village. I personally experienced his generosity during our visit when he gave me a bag of grain, even though I tried to refuse it. "I could never repay your organization for what you have done for my niece, but in respect to our culture, please accept my token of hospitality," he insisted. I accepted his gift, but a few days later, I returned to his village and told him that I was in the area and decided to buy him a few groceries. The groceries exceeded the value of the bag of grain he gave me.
Dropping off the bag of grain at City of Joy, I could not help but compare the differences between Kathryn's village and City of Joy: a library equipped with computers, sleeping quarters with running water and electricity, three square meals a day, and the list goes on. In Kathryn's words, "Here, I have everything I need to pursue my dream of becoming a nurse."