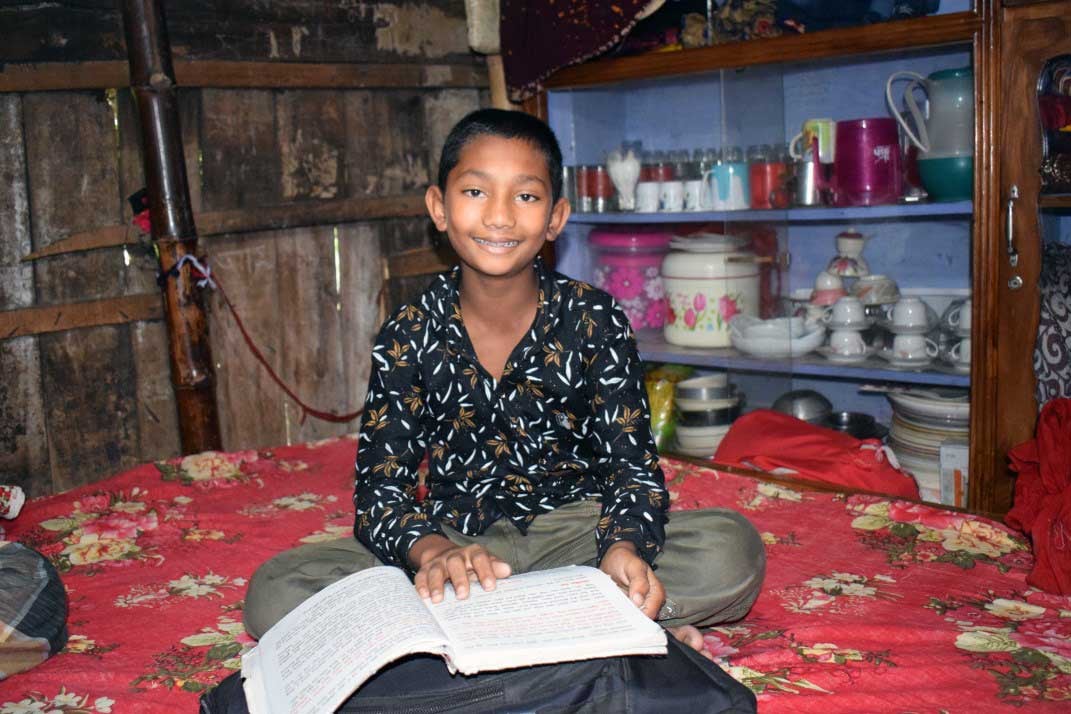 "I do not want to work again at the fish market," says 13-year-old Maruf. His parents and brother loved Maruf very much but could not provide him with anything but food. Maruf worked instead of going to school. He always reached the fish market early in the morning before the fishermen started unloading their catches. He often caught colds walking barefoot on the wet concrete floors and staircases. The pungent odor of fish made him lose his appetite. "Dripping muddy water soaked my shirt while I carried heavy fish baskets, ice-blocks, or buckets of water," says Maruf. He made about $ .50 a day and spent it all on street food. When he had no work, he roamed the streets and re-turned home in the evening with empty pockets and an empty stomach.
The family income was dependent on Maruf and his mother Maksuda, who works as a seamstress. His father, Sofikul, was a porter but is now bed-ridden due to chronic heart and kidney disease. "My husband never received profes-sional medical care. He consulted local quacks that never improved his health," says Maksuda. Maruf's older brother Sal-man, 19, is still recovering from injuries from a terrible accident two years ago. Working for a mason, he was accidently electrocuted and eventually lost an ear and his left hand. The burden of supporting the family fell entirely to Maksuda and Maruf.
Two years ago, World Vision's Child Protection Project staff first spotted Maruf at the fish market. They met with Maruf's parents and withdrew him from work. "We never imagined the unconditional help World Vision could offer," says Maksuda. "We started sending Maruf to World Vision's learning center. We observed changes in Maruf's attitude. Returning home, Maruf always shared about the handwashing, physical training, rhymes, and games he learned." He now attends formal schooling in his village and has learned to read and write.
World Vision provided Maruf with a school uniform, supplies and school fees through monthly cash grants. With the COVID-19 pandemic, Maksuda could not work outside the home. World Vision provided the family with a small uncon-ditional cash grant for her tailoring business. The staff also linked Maksuda with the government's social safety-net for disabled people, sanctioning Salman a lifetime pension per month.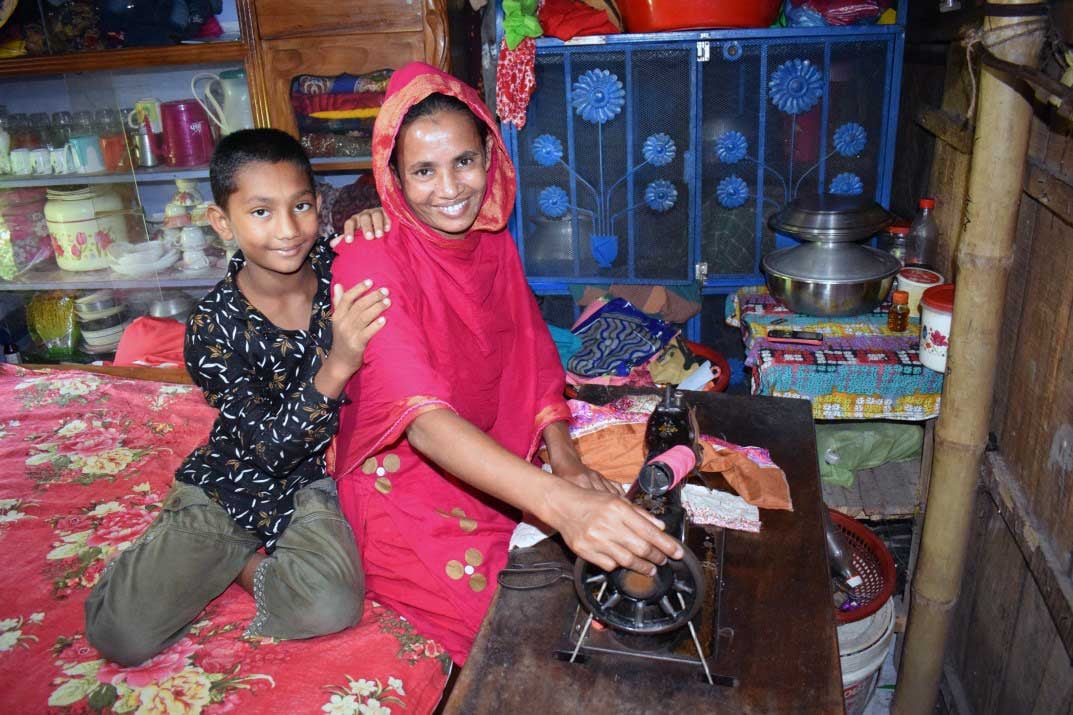 Their lives have changed. Maksuda practices parenting skills she learned from World Vision and has one on one time with Maruf and Salman, trying to see things from her kids' point of view. World Vision donated fabric that helped Maksuda expand her business. Her daily income has increased to about $4 per day from selling fabric and tailoring dresses. "In all these, I also ac-complish all chores and give baths to my husband and elder son. I help Maruf to complete his homework, too," says Maksuda. In addition, she even saves nearly $6 a month. Maruf dreams to some day be a police officer and serve his community. "Thank you to World Vision for your gifts to alleviate our poverty," says Maksuda. And now Maksuda can use her gifts to help her boys achieve their dreams.